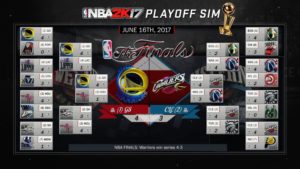 The 2017 NBA Playoffs kicked off late last week, and 2K's NBA 2K17 was there to provide a simulation of this year's bracket.
If you'll recall, last year, Steph Curry and the Golden State Warriors blew a 3-1 lead in the 2016 NBA Finals to the Cleveland Cavaliers. They eventually lost the series in Game 7, and LeBron James was able to hoist his third NBA Championship.
But if NBA 2K17's simulation comes to pass, this year's NBA Finals will end in a rematch that once again goes the distance… and this time the Warriors will emerge victorious in Game 7.
So how do we get from here to there? According to the simulation, the Warriors will easily roll over their opponents in the first three rounds with wins over the Portland Trail Blazers (4-0), Los Angeles Clippers (4-1), and Houston Rockets (4-1). The Cavaliers will have a tougher time to reach the Finals, ultimately pushing past the Indiana Pacers in five games, the Toronto Raptors in six games, and the Washington Wizards in seven games. Cleveland's more brutal schedule might be the reason behind their eventual defeat in the Finals.
In the real world, the Warriors and the Cavaliers are both doing their part to accurately reflect the action in NBA 2K17s crystal ball, as each team won their first playoff game this weekend. But we'll have to wait until June 1st, and the start of the 2017 NBA Playoffs, to see if the game's full simulation is on the mark.