Supergiant Games is known for its unique audio work, gameplay, narrative design, and possibly above all, its vivid art direction and worldbuilding. Pyre is no exception to this, but I would argue that it's the game where Supergiant is finally hitting their stride. With a combination of stylized art design, innovative and intuitive gameplay, and intriguing characters, it feels like they've gone to a whole new level of game design. Not that Bastion and Transistor weren't excellent in their own right, but Pyre feels like a natural evolution from those games to something wholly different – and yet utterly Supergiant.
Platforms: PC (Version Played), PS4
Publisher: Supergiant Games
Developer: Supergiant Games
Genre: Manic Multiplayer Arena Action RPG
Release Date: TBA 2017
ESRB Rating: Rating Pending
I recently played a single-player demo of the game, in which you meet three exiles and discover, through haunting dialogue, that you are in a kind of purgatory, and they are trying to escape it. The only way they – and you – can escape it is through Rites, which are an ancient competition you fight against other bands of exiles you find. But in order to do that, they need someone who can read the Rites – which, you discover, is where you come in.
The game is a kind of capture the flag – you control the three exiles against enemies, switching back and forth between them and trying to get your Orb into the other team's Pyre. The tutorial was an excellent introduction – press X to switch between characters, press O to shoot your Aura like a weapon at an enemy or toss the Orb into the Pyre, press Square to jump, and press R2 to use your sprint move. Each character plays differently – there's a large woman, a medium-sized man, and a small creature who is doglike.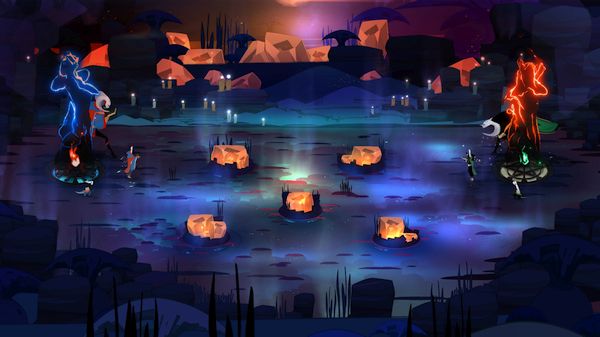 At first, I didn't love the gameplay. It was slow-paced, and seemed too simplistic, even with the different ways the characters handled. But the narrative was very compelling, and drew me into the story as we left the tutorial area and ran into a group who were clearly enemies of your three newfound friends.
This next Rite, where you face off against these enemies, was incredibly intense. There were a few obstacles on the field, and this AI was far more devious than those in the tutorial. The goal is to get your Orb into their Pyre a certain number of times, and if your characters get attacked, they won't be available again until after a cooldown. So you have to be careful in how you approach the enemies, especially if you're short on players. There's a delicate balance, and I found myself sweating through the entire fight. Afterwards, players were given a glimpse of what the leveling system will look like, which gives experience based on how each character interacts during the Rites.
By the time this fight was over, I was in love with how the game felt. It was extremely intuitive, and I was on the edge of my seat through the entire second Rite. Killing with the Aura, maneuvering around enemies, sinking your Orb into their Pyre – every moment was visceral and satisfying. Part of that was the music, which was exquisite – it might be the most upbeat music they've ever had in one of their games. It was intertwined perfectly with the amount of intensity in the fight.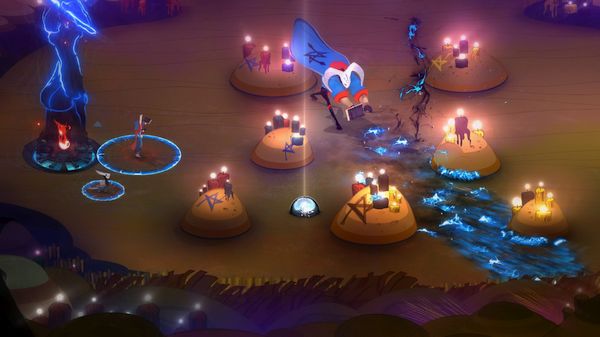 On top of that, as is Supergiant's trademark, the art is breathtaking. The characters themselves are each distinct and beautiful, with voices that match with their strange visages. And there are small joys, like interacting with the strange Imps within the wagon, which react in weird and wonderful ways.
Supergiant is well on their way to doing it again with Pyre – creating another world, another set of characters, another incredible soundtrack. But I feel that this is actually them hitting their stride: while their first two games were great, Pyre feels almost perfect, like it's the natural progression of their game development and it's going to take all that the studio is good at and coalesce into its most amazing game yet.
Pyre doesn't have a set release date, other than TBA 2017, so look out for it later this year on PlayStation 4 and PC.