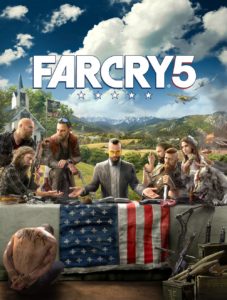 Ubisoft will pull the curtain back on Far Cry 5 with a special "Worldwide Announcement Trailer" on Friday, May 26. But first, they've unveiled the game's box art, which provides a few big hints as to what the title will be about.
With the Montana setting and the Last Supper-esque posing of the characters, it's easy to assume that a religious cult will play a major part in Far Cry 5's plot. And the amount of guns strewn around the table is probably meant to invoke comparisons to David Koresh's Branch Davidians or Jim Jones's Jonestown. Also, I don't know if you noticed, but the cult leader is very likely getting ready to feed his prisoner to that wolfhound on the right.
If all goes according to plan, Far Cry 5 will be released for the PC, PS4, and Xbox One sometime this year.