When the Wii first arrived, Nintendo teased motion controls that seemed like a natural fit for sport games. A whole new generation of gamers were entertained by Wii Sports after it arrived alongside the console, but what Nintendo actually achieved was closer to a waggle-fest. Two consoles later, the company has managed to deliver on those initial expectations with Arms, a bouncy and bright brawler that aims to be the next Splatoon.
But will Arms have "similar legs to the ink-splashing shooter (which already has a sequel available in stores)? Grab your boxing gloves and find out!
Platforms: Switch
Publisher: Nintendo
Developer: Nintendo
Genre: 3D Springy Boxing
Release Date: June 16, 2017
ESRB Rating: Everyone 10+
Arms has been unleashed by a Nintendo that seems more confident, and one that the Wii U could have used. While first-party offerings on their previous console were still top-notch, they felt safe and uninspired, like regurgitations of previous games. The flagship Mario title, Super Mario 3D World, was a retooled version of Super Mario 3D Land. And although The Legend of Zelda: Breath of the Wild eventually arrived on both the Wii U and Switch, Nintendo fans will always associate its groundbreaking design with Nintendo's newest console.
Yet, there was also Splatoon, a game that showed Nintendo could still create something completely new and fresh. Arms seeks to do the same in the one-on-one arena, with a wacky roster of characters that rivals Overwatch, the current king of multiplayer competition.
The big question is, do the motion controls in Arms work? For the most part, the answer is yes. When I first started playing, I found it frustrating beyond belief, until I realised I was holding the Joy-Cons the wrong way round. Once I overcame my user error and gripped them in a more natural way, the character movement became super-responsive. Moving and blocking come naturally, but making your spring arms twist and turn can take a little bit of time to master.
Even still, Arms is a tiring game. Tackling the ten-match Grand Prix takes anywhere between 20 to 30 minutes depending on the difficulty setting, and anyone who does CrossFit will know that's a long time when waving your arms around. Thankfully, the game supports standard controls with the dog controller (better known as the Switch Grip) or the Pro Controller. However, the trade-off is that this doesn't quite deliver the fun of throwing a punch and watching it land squarely on your opponent's face.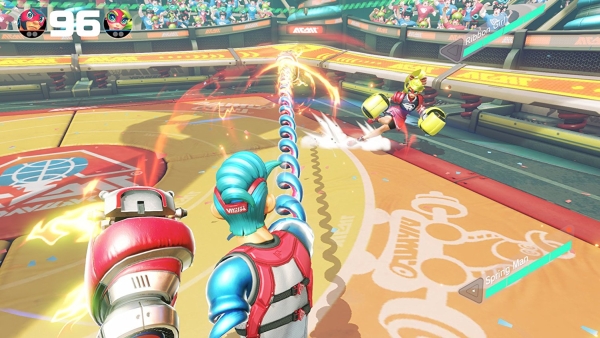 Every character comes with three different types of gloves, and each set offers their own advantages. The great thing is the left and right gloves do not need to match, giving a whole new level of strategic depth to Arms. Boxing gloves can come with added elements like fire, ice, or a surge of electricity. They also come in a variety of sizes or classes, like Boomerang gloves that fly out in a wide arc, only to fly back and pummel the opponent, or Mega arms, which are slow but devastating when they connect.
The single-player Grand Prix is not just ten straight fights to face the champion. Some of these bouts break up the action with mini-games like Hoops, where players must slam dunk their opponent into a basketball net, and Skillshot, where the aim is to hit more targets than the other player. If you are a sadist and want to give your arms a proper workout, there is also a "1 Versus 100" mode, where you take on 100 fighters one after the other until you die, or your arms fall off.
I haven't spent much time with Arms's online multiplayer, but given that it has the same addictive qualities as Splatoon, it should find a growing audience as a competitive esport. The inventive and original character designs are the main part of the attraction, and with new additions promised for the weeks and months ahead, Arms could have a long life span, even if your actual arms do not.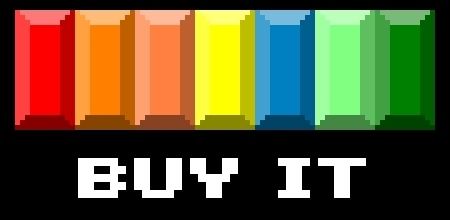 Review Disclosure: A retail copy of Arms was purchased by Warp Zoned for the purposes of this review.