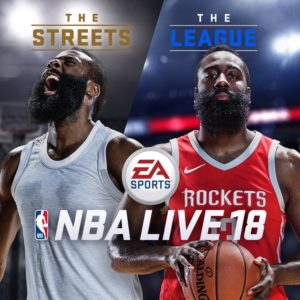 EA Sports has announced that its bringing James Harden's fantastic facial hair to store shelves and the cover athlete for NBA Live 18. Houston's superstar shooter will help promote the game, which will be available for the PS4 and Xbox One on September 15.
"When I heard about working with EA Sports and being the cover athlete of NBA Live 18, I was pretty excited for the opportunity," said Harden. "NBA Live 18 is all about creating your own identity and making your mark on the league, and I can definitely relate to that. If anybody knows about creativity, it's me."
Xbox Live Gold and PlayStation Plus subscribers who want to try out NBA Live 18 before its released will get the chance with a special demo now available to download through each system's digital storefront. The demo will feature a prologue to the game's story mode, and any progress made will carry over to the full game:
In the NBA Live 18 free demo, players will experience The Rise, the prologue section of The One – an all-new way to pursue your legacy, centered on the player and defined by your choices. Progress made in The One during the free demo can be carried over into the full game, so players jumping in early can continue their experience when the full game launches.

Players in the free demo will also be treated to specially-timed Live Events – limited-time activities with special rules, rewards and characters, only available in The One. Rewards earned in weekly Live Events will also carry over into the full game, giving players reason to regularly come back and check out the new events in order to earn new rewards. The free demo rounds out with a Play Now experience between the NBA Finals rivals Cleveland Cavaliers and Golden State Warriors.
Finally, EA Sports is offering a huge discount to anyone who pre-orders NBA Live 18 from Amazon, Best Buy, GameStop, Target, Toys R US, or Walmart, as well as digitally through the PlayStation Store or Xbox Games Store. Everyone who's willing to take a chance on EA's first basketball simulation since 2015's NBA Live 16 before its released will be able to purchase it for just $39.99.