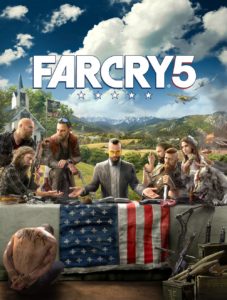 Ubisoft has announced their PAX West 2017 booth will be devoted to one game… Far Cry 5. The open world action game is set to launch for the PC, PS4, and Xbox One on February 27, and players will step into the shoes of a green junior deputy as they go deep undercover to stop a doomsday cult.
Today, Ubisoft announced its PAX West 2017 lineup, inviting fans to take down cultists via aerial dogfights, shootouts and more in an exciting demo of Far Cry 5, at the Ubisoft booth (#605) in Seattle from September 1–4. After a tense exchange with the Project at Eden's Gate, attendees can get a change of pace and partake in a fishing competition. Competing against eight people, the person who catches the biggest fish in the span of 10 minutes will win a special Far Cry 5 pin.
Ubisoft will also host two panels at PAX West 2017 for their fans. One will offer a deeper look at Far Cry 5, while the other dives back into the world of this Spring's For Honor:
Far Cry 5
September 2, 2:30 – 3:30 PM (Pacific Time)
Far Cry 5 throws players headlong into a war against the Project at Eden's Gate, a sinister doomsday cult that has taken over idyllic Hope County, Montana. Join the resistance of Hope County as they rebel against the cult's dark influence. Hosted by Achievement Hunter's Jack Pattillo, the panel includes Lead Writer Drew Holmes and the talent bringing the colorful denizens of Hope County to life, Murry Peeters (Grace Armstrong), Martin Roach (Pastor Jerome Jeffries), Steve Byers (Nick Rye) and, that's right, Boomer the dog.

For Honor
September 4, 2:30 PM (Pacific Time)
Every week, the For Honor dev team presents a live show which connects them directly with their community. Answering questions, providing news and information and oftentimes a big peek behind the curtain of the game's continuing post-launch development, the Warrior's Den has become an important touchpoint for transparency and information for players. Now, for the first time ever, the For Honor team will be doing the show live and in person with their community. Join Creative Director Roman Campos Oriola, Game Director Damien Kieken, Lead Designer Bio Jade Adam Granger and Community Developer Eric Pope.
Fans who aren't able to attend this year's expo can view the Far Cry 5 panel on PAX's Twitch channel. Likewise, the For Honor panel will be streamed on For Honor's Twitch channel.