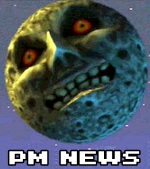 The Nintendo Switch continues its roll this week as indie developers have added another massive batch of games to the consolemaker's eShop.
Leading the way are Axiom Verge, the retro-styled MetroidVania from Thomas Happ, and Stardew Valley, the whimsical farming sim from ConcernedApe. Both games will be joined by Tumblestone, a "multiplayer action puzzler" from the Quantum Astrophysicists Guild.
Over on the 3DS, Nintendo will bring Mario & Luigi: Superstar Saga + Bowser's Minions, a remake of the beloved Game Boy Advance RPG, and Layton's Mystery Journey: Katrielle and the Millionaires' Conspiracy, the latest puzzle adventure from Level-5, to their handheld beginning tomorrow.
You can learn more about all of this week's additions to the Nintendo eShop after the break.
---
Nintendo Download: Valley Full of Minions and Millionaires [Press Release]

Nintendo eShop on Nintendo Switch
Stardew Valley – You've inherited your grandfather's old farm plot in Stardew Valley. Armed with hand-me-down tools and a few coins, you set out to begin your new life. Can you learn to live off the land and turn these overgrown fields into a thriving home? It won't be easy. Ever since Joja Corporation came to town, the old ways of life have all but disappeared. With a little dedication, you might just be the one to restore Stardew Valley to greatness!
Axiom Verge – Life. Afterlife. Real. Virtual. Dream. Nightmare. It's a thin line. This is the action-adventure you've been waiting decades for. After a lab accident, a scientist awakens in a mysterious, alien world. Is this a distant planet? The far future? Or a complex virtual-reality computer simulation? Plumb the recesses of a large, labyrinthine world in order to learn its secrets and uncover your role within it.
Earth Atlantis – Earth Atlantis is a side-scrolling shooter with an original "Monster-Hunting" gameplay. Search and hunt down dreadful sea monsters and explore the post-apocalyptic underwater world. Unlock multiple ships with special weapons and abilities for your journey and become a legendary hunter!
Touhou Kobuto V: Burst Battle – Touhou Kobuto V: Burst Battle is a bullet-hell battle game that takes place in the Touhou universe. Take control of one of nine Touhou characters and eliminate your opponent using bullet-hell patterns, melee attacks, or spell cards! Available Oct. 10
Tiny Barbarian DX – Steel yourself for a relentless display of might and muscle…of brawn and bravery…of magic and mayhem! Can you cleave your enemies' skulls, plunder all the booty and flex to impress the barbarienne of your dreams? Inspired by heroic fantasy fiction, Tiny Barbarian DX combines engaging 2D platform action and combo-based hack-and-slash combat with retro-style pixel art and a loincloth-stirring chiptune soundtrack. Available Oct. 10
Oxenfree Oxenfree is a supernatural thriller about a group of friends who unwittingly open a ghostly rift. Play as Alex, a bright, rebellious teenager who brings her new stepbrother Jonas to an overnight party on an old military island. The night takes a terrifying turn when you unwittingly open a ghostly gate spawned from the island's cryptic past. How you deal with these events, your peers, and the ominous creatures you've unleashed is up to you. Available Oct. 6
Tumblestone – Tumblestone is the first original action-puzzle game of the past fifteen years. Race your friends in multiplayer or challenge yourself in story mode. Solve progressively more difficult and creative puzzles, help a sausage make friends, and find out what happened to the Tumblecrown.
Volgarr the Viking – Return to the Golden Age of arcades! Volgarr the Viking possesses all the hallmarks of the true classics – simple controls, high challenge, and meticulous design – combined with hand-made pixel animation, an epic soundtrack, and buckets of blood.
Ninja Shodown – It's every ninja for themselves in the ultimate battle for the Jade Katana! Fight alone, team up or take on friends in brutal arena-based combat where the mighty prevail and the weak pay the ultimate price: death and dishonour!
The year is 199X and the world teeters on the brink of total destruction. The mystical Jade Katana, stolen! Its power, so lethal! In the wrong hands, humanity will fall! And so the Viper Clan, sworn guardians of the Jade Katana, prepare to embark on their most perilous mission yet: retrieve the sword at all costs! Use katanas, shurikens, bombs, machine guns, shotguns, bazookas and more as you battle your way through a variety of locations to become the ultimate ninja and fulfill the ancient vow of the Viper Clan.
Metal Slug X – Metal Slug X is an action shooting game released by SNK in 1999. It is a rearranged version of Metal Slug 2. Using Metal Slug 2 as a base, a variety of new weapons and enemies have been added. Furthermore, with position changes of bosses and more, the game's difficulty has been completely readjusted.
Nintendo eShop on Nintendo 3DS
Mario & Luigi: Superstar Saga + Bowser's Minions – There are so many surprises, thrills and laughs in store for Mario and Luigi that it isn't even funny … except it is! Every hee-hee and ha-ha in this classic RPG adventure has been remade in 2D for the Nintendo 3DS family of systems. Plus, a new squad-based strategy tie-in sees Bowser's Minions on a quest to stop Fawful. "Have you readiness for this?!?" Mario & Luigi: Superstar Saga + Bowser's Minions will be available on Oct. 6.
Layton's Mystery Journey: Katrielle and the Millionaires' Conspiracy – The renowned Layton series returns to Nintendo 3DS with the seventh installment, Layton's Mystery Journey: Katrielle and the Millionaires' Conspiracy. A new adventure packed with puzzles, mystery and humor introduces Katrielle Layton, daughter of the famous Professor Layton, in a casual, comical quizzical quest. Full of ingenious challenges, charming characters and clever plot twists, the newest installment will prove that "The truth is always stranger than fiction." Layton's Mystery Journey: Katrielle and the Millionaires' Conspiracy will be available on Oct. 6.
Symphony of Eternity – Find the legendary weapon in a fantasy RPG full of dramas with monsters, elves, dwarves and golems! Kreist is on a quest with his golem friend Dauturu to find Regratlute, which is said to be able to grant any wish. On their travels, they come across a young lady being attacked by demons, and rescue her. What fate awaits Kreist, Dauturu, and the mysterious young lady?