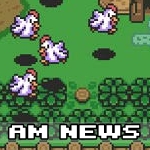 Two games tower above all others on October's release calendar… Super Mario Odyssey and The Mummy Demastered.
While the appeal of Mario's next adventure is obvious, WayForward's adaptation of a Tom Cruise bomb is a bit more surprising. But the developer has jettisoned anything to do with the actor and delivered a retro-inspired "MetroidVania" shooter. And now we know when it'll be released.
Oh, and Nintendo transformed Super Mario Odyssey into a musical for the game's latest trailer.
Enjoy both after the break.
---
Jump Up, Super Star! – Super Mario Odyssey Musical [YouTube]
So here's something you don't see everyday… Nintendo made a live-action musical trailer for Super Mario Odyssey… complete with Pauline crooning "Jump Up, Super Star," the game's theme, for a rapturous audience:
Join Mario and Cappy as they dance through the streets of New Donk City and embark on an all-new, massive, globe-trotting 3D adventure!
Super Mario Odyssey will be available exclusively for the Switch on October 27.
---
The Mummy Demastered Launches on October 24th [Twitter]

WayForward has announced that The Mummy Demastered, their retro-themed "MetroidVania" based on Tom Cruise's Mummy movie, will be available to download for the PC, PS4, Switch, and Xbox One on October 24:
The Mummy Demastered launches on October 24th! Coming to PS4, Xbox One, PC, and Nintendo Switch! https://t.co/dWHdVOK20R pic.twitter.com/VrrNBgCcCg

— WayForward (@WayForward) October 9, 2017