When we looked over the gaming landscape at the beginning of 2017, we opined that game publishers had done their best to wipe the slate clean throughout all of 2016. Many of gaming's most mysterious projects were finally released, Nintendo closed the door on the Wii U, the VR revolution was in full swing, and upgraded versions of the PS4 and Xbox One were on the horizon.
In these first few days of 2018, I think it's safe to say the last 12 months definitely fulfilled that promise. Nintendo's Switch roared out of the gate in March and the consolemaker filled the calendar with big titles on "Day One" and throughout the rest of the year. Night in the Woods, Persona 5, and Golf Story told new kinds of stories that gamers had never seen before. Cuphead delivered a decidedly retro side-scroller packaged within a unique visual playground packaged. And someone even managed to create a fun Friday the 13th game.
It was quite a year, and you can find more of our favorites from 2017 after the break.
The Apocalypse List
What happens to all the games when the zombie hordes are scratching at your (hopefully) heavily-fortified door? If you've boarded yourself up safely, what better way to spend your time in "The Vault" than by playing Warp Zoned's favorite games from 2017? If there were no developers around to make new games, these are the games we'd keep playing if we had all the time in the world…


With a visual style inspired by 1930s cartoons and a side-scrolling style that was heavily based on Contra III and Contra: Hard Corps, I often felt like Cuphead was being created just for me. But with two million in sales (and counting), it looks like the entire world has fallen in love with Studio MDHR's debut. And with good reason… each of the game's encounters is fiendishly well-designed. Cuphead isn't just for me, but I can't think of a better game I played all year. – John Scalzo

Over the course of a decade, Guerrilla Games immersed gamers in the world of the Killzone franchise across five critically-acclaimed games. But they said goodbye to their interstellar saga with the release of Killzone: Shadow Fall in 2013, and took a hard right turn towards the post-apocalyptic world of Horizon: Zero Dawn in 2017. With a mix of prehistoric weaponry and robotic dinosaurs, Aloy's world was like nothing gamers had ever seen. – John Scalzo


NetherRealm Studios brought back a bigger and bolder Injustice universe in 2017 with the release of Injustice 2. Like a lot of sequels, Batman and Superman put aside their differences to fight an even bigger threat, but the one-on-one fighting feels much-improved over its predecessor and the developer wasn't afraid to take the storyline to weird new places. I even loved the randomly-generated Gear system. Earning a new piece for my favorite fighters was always exciting. – John Scalzo


What more can you say about The Legend of Zelda: Breath of the Wild? Link's latest adventure is a dramatic reboot of the franchise, as well as the entire genre of open world games. But Breath of the Wild is also ridiculously inventive (some of the Shrines are downright diabolical) and always fun. The fact that a game this huge can go anywhere thanks to the Switch's portablility is just icing on the cake. We'll be talking about Breath of the Wild for years to come, but for now, all you really need to say is that it's far and away one of the best games of 2017. – John Scalzo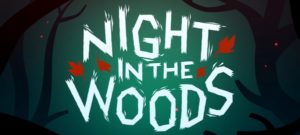 When a video game gets so in my head that I feel like someone stole my journal and made a game out of it, well, that's a video game I think I could play for eternity. Such is the case for Night in the Woods, in which you are a college dropout who returns to your small town in middle America because you want to be back with your friends and in the comfort of what you know. Oh, also, you're a cat. And you play the bass, and there's a video game you can play on your laptop inside this video game. Night in the Woods is soul-crushingly cute, with incredible graphics and really charming details. But it's also dark, exploring both the concepts behind human loneliness and also the identity of small-town America. Colorful and soulful, it's not just an adventure game with dialog trees – it's got rhythm games, QTEs, and platforming moments all rolled into it. Get it before the apocalypse so you can play it forever. – Nicole Kline

I finally beat Persona 5 eight months after I started it, and I didn't even scratch the surface of what I could do. New Game+ holds much for me, and I haven't even touched it yet. Of course, I utterly adore this series – it's a JRPG where you play as high school students who go to class by day, and fight monsters once that last bell rings. But it's so much more than that – you can build up relationships with other people in the city, experiment with making your own Personas, and, of course, go fishing. There are also books you can read, video games you can play, and, if you're feeling up for it, you can even do your own laundry. It's definitely the most stylized and over-the-top in the series, and if the world ended, I'd want this game available. – Nicole Kline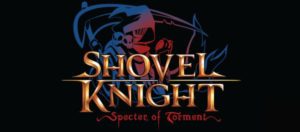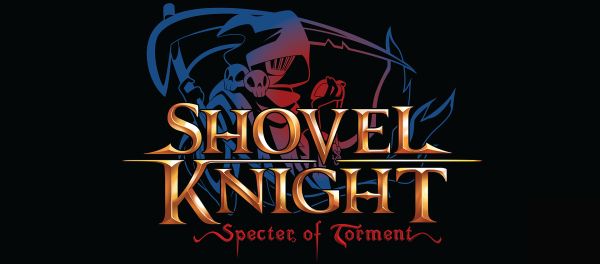 When it comes to launch games for the Nintendo Switch, I can think of no higher praise for Shovel Knight: Specter of Torment than by admitting that it consistently pulled me away from The Legend of Zelda: Breath of the Wild after I purchased the console. It is a tremendous platformer that'll be appreciated by fans of the franchise, as well as players looking for a new experience akin to the original Ninja Gaiden trilogy. The game's many elements all come together to create a fast-paced platformer that feels as different from Shovel Knight: Plague of Shadows as that game did from the original Shovel Knight. – John Scalzo

If you're looking for something groundbreaking or revolutionary from Splatoon 2, you should probably look elsewhere. But what the team-based shooter lacked in originality, it made up for it by providing another perfect splash of Nintendo's unique brand of multiplayer mayhem. If you were a fan of the original Splatoon, the sequel should be one of your first stops if you've purchased a Switch. – John Scalzo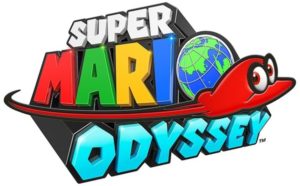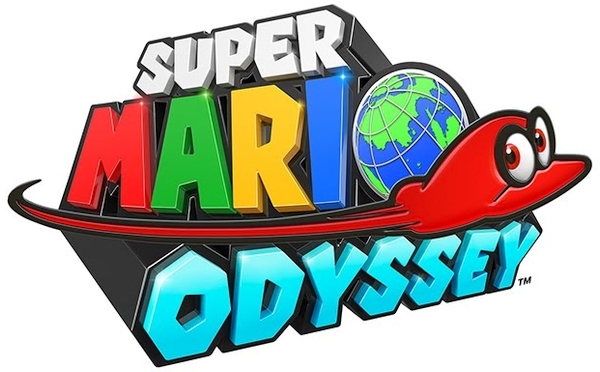 It's been a long time since Nintendo gave the world a free-roaming 3D Mario adventure. Thankfully, Super Mario Odyssey picked up right where (the legendary) Super Mario 64 and (the underappreciated) Super Mario Sunshine left off. Add in Mario's new pal, Cappy, and Odyssey becomes one for the ages. And once you hear it, you'll never be able to get Jump Up Superstar out of your head. – John Scalzo

Nintendo finished off the Switch's first year with Xenoblade Chronicles 2, a sprawling direct sequel to 2012's Xenoblade Chronicles. Some of its design choices were a bit controversial, but it was also one of the best RPGs on any platform in 2017. – John Scalzo
---
The Participation Trophy
The Participation Trophy is awarded to a game that wasn't necessarily great, but it was great that we got to play it.
Winner (TIE): Friday the 13th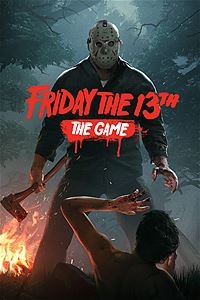 Here's one that's definitely a head-scratcher. Not that the game was bad, mind you – it just had a lot of head-scratching issues. Friday the 13th was riddled with glitches, team-killers, jacked-up servers, matchmaking issues, game-freezing bugs, and was just an overall mess. But at the same time, when it worked, it worked brilliantly. I had so much fun hiding from Jason and trying to escape Camp Crystal Lake, and conversely hunting down the teenagers as the masked killer. Illfonic and Gun Media are still working on the game, and fixed a lot of issues, but I still can't get the image of a headless counselor running around the woods with a car battery. – Mike Ryan
Winner (TIE): Ruiner / Tokyo 42
I'm going to split my vote between Tokyo 42 and Ruiner. Both games were high on my hit list this year for very different reasons. Tokyo 42 looked like a true sequel to Syndicate (instead of the lazy FPS that Starbreeze papped out a few years ago), while Ruiner had one of the best trailers I've ever seen (it was truly glorious). Neither game quite lived up to those lofty expectations, but they came pretty close, and I'm glad I got to play them. – Andrew Rainnie
---
Best Game Where an Alien's a Robot's Head Pops Like a Grape
Spaceships, little green men, giant mecha… the world of science fiction will always have a place in video games. This is our favorite game where an alien/robot/mutant gets an RPG to the face in 2017.
Winner: Horizon: Zero Dawn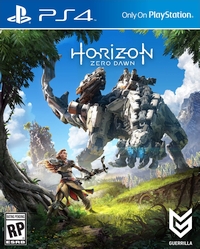 Horizon: Zero Dawn made killing giant dinosaur robots an emotional and physical challenge, and it was all the better for it. The game's environments were beautifully realised, with some of the most beautiful dawns I have witnessed in a video game. But it was also the intricate way that humanity's past was still present, rotting away in plain sight, while the cluster of colonies you discover are placed in places that make sense, like the top of a ridge for a defensive advantage, or the town built up from the river. It truly was a privilege to walk through its post-apocalypse. – Andrew Rainnie
---
Jason Voorhees Memorial Award
The rotting corpse of Jason Voorhees has shambled his way through 12 movies since 1980 and horror fans can always be counted on to return to Camp Crystal Lake. The hockey mask-wearing slasher is so perennially popular that the "Memorial" part of this award will always be in question. And so it is with video games, which often manage to get better after the 11th or 12th iteration of a series.
Winner: Super Mario Odyssey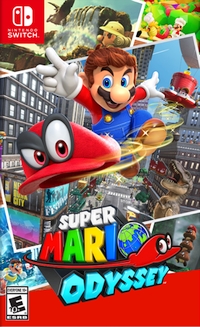 Let's face it, Super Mario Odyssey managed to once again revitalise the 3D platformer with its crazy character Cappy and the ability to immediately take over pretty much everything in the game, from a giant T. Rex to something as mundane as a rock. The world was beautifully realised in ways that only Nintendo can. My favourite part of this game (besides the rope skipping mini game) was the fact that every land had a different bird that would land on Mario if he fell asleep because you had gone to make a cup of tea and left the controller sitting idle. – Andrew Rainnie
I enjoyed Super Mario Sunshine and Super Mario Galaxy, but neither of them gave me that same "magical" feeling that Super Mario 64 did. Super Mario Odyssey, however, hit me right in the 1996 feels. The game felt familiar, yet new, and encapsulated everything that makes Super Mario games so special. And yes, I did download Jump Up Superstar from iTunes. – Mike Ryan
---
The "Great Scott" Award for Best Trilogy Ender
Everyone loves a trilogy. And no one loves a trilogy more than game publishers. Getting three games out into the marketplace that can sell, sell, sell is a publisher's dream.
Winner: Crash Bandicoot N. Sane Trilogy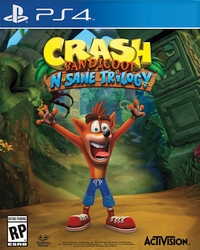 The Crash Bandicoot N. Sane Trilogy is not really the traditional trilogy ender that we usually talk about here, but let's be honest: it's one of the most perfect trilogies in video games. For them to re-release it on the PS4 was a blessing – not just because people like me can replay these games, screaming HULABOOGA! at their television loudly and randomly enough to scare their spouses, but also because it means that a younger generation who never played these games – the BEST Crash Bandicoot games – will now get their chance. And with all of it remastered in HD, it's more beautiful than ever before. Go forth and let that marsupial teach you how to dance. – Nicole Kline
---
Al Gore Award for Best Use of Environment In a Game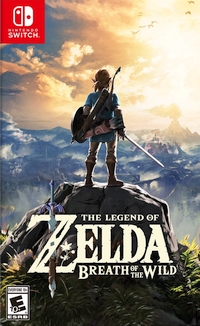 Ever since games moved beyond being about a simple character moving against a black background, they've used the environment to help tell their story. Who can forget the unique playground of Super Mario 64 or the hostile terrain of Half-Life 2? And because sometimes you just want to stop and look around at the world.
Winner: The Legend of Zelda: Breath of the Wild
The land of Hyrule present in Legend of Zelda: Breath of the Wild deserves this award because itself felt like its own character. I could walk through a decimated colony of houses and only imagine the terrible fate that befell its inhabitants. From rolling pastures and lazy rivers to arid deserts and snow-capped mountains, Breath of the Wild had it all. It truly was a work of art. – Mike Ryan
---
Miles Dyson Memorial Award
AKA "The One Step Closer to SkyNet Award." Video game technology is advancing at a lightning fast pace and now that next generation consoles have practically reached the limits of photorealistic graphics; the only other place to go is to make the game world as realistic as possible. There's no fate but what we make and no limit to what a talented developer can do with the right piece of new technology.
Winner: Nintendo Switch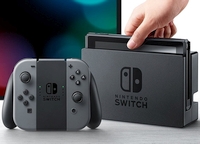 The Nintendo Switch was the first console/handheld hybrid… do I really need to say anything else? OK, how about the fact that it's now home to an absolutely stellar library of games, and it's only been available on the market for less than a year. It doesn't have the horsepower of the PS4 Pro or Xbox One X, but Nintendo's newest console was pretty much the most exciting place to play games in 2017. – John Scalzo
---
Thrifty Time-Reversal Award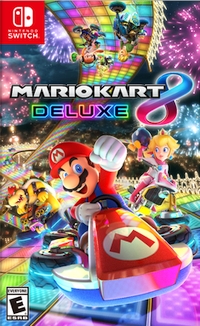 Maybe you missed it the first time around. Or maybe it was your favorite game back in the day and you want to play it again. Whatever the reason, it was back in 2017 with eye-popping 3D or a high definition makeover or some other update. And you can't imagine not parting with your money and playing it all over again.
Winner: Mario Kart 8 Deluxe
I think we all saw this one coming. Mario Kart 8 Deluxe took everything we loved about the Wii U edition and gave it a fresh coat, new characters, and just enough polish to warrant a re-purchase (even if you owned all the original DLC). I was a little apprehensive at first about buying the game again, but being able to kart on the go quickly washed away those feelings. – Mike Ryan
---
The "This Game Rocks" Award
Games need more than a good story and gameplay sometimes. Sometimes they need to rock (or pop or jazz or what have you). This award honors the game with the best music of the year.
Winner: Cuphead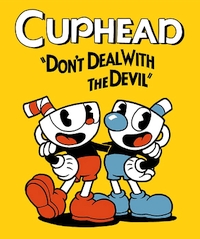 Cuphead. Cuphead. Cuphead. I'll say it again three more times if I have to. I am a sucker for 2D, hand-drawn animation, and love the old era of cartoons featuring the likes of black-and-white Mickey Mouse and Bosko. I recognized the inspirations that went behind some of these characters, and the music fits that era perfectly. The toe-tapping Jazzy sounds couldn't be more precise, and King Dice's level song feels like it was pulled straight from Louis Armstrong's vault. An absolute musical masterpiece if I ever heard one. – Mike Ryan
---
The "Shoeless" Joe Jackson Award
"If you build it, he will come." Most games are victims of overinflated expectations, but sometime there is no hype and no warning. Sometimes a game just completely surprises you. Like "Shoeless" Joe Jackson emerging from the corn, this game came completely out of left field to thrill you.
Winner: Golf Story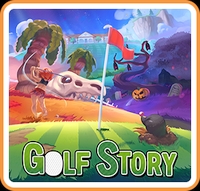 I bought Golf Story for the Switch because I was travelling and wanted something new to occupy my time. I had heard good word of mouth, but it was an RPG based around golf, so I was not expecting it to be anywhere near as great as it is. The old-school golf games are wildly addictive, while the game's humour and variety makes it a perfect little game. – Andrew Rainnie
Where the hell did this game come from? I never heard of it until I saw a brief snippet of it during one of Nintendo's Direct videos. I downloaded it on a whim, and was hooked. Golf Story features tight golfing mechanics (which is a must), a cheeky storyline, and plenty of RPG elements to keep it interesting. Add to that the ability to just play a round of golf at any time, and you've got an amazing game that popped out of nowhere. – Mike Ryan
---
The What? Award
The game that most perfectly encapsulates a single thought process as you play it: "What did I just see?"
Winner: Persona 5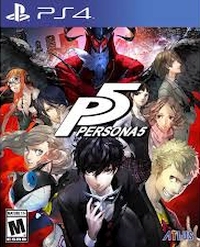 As a high schooler who is really concerned about getting good grades, figuring out which girl to date, and trying to get a part-time job, it seems only natural that my biggest worry would be what time we're going to the Metaverse to change people's hearts by fighting the monsters inside of them. I mean, we all remember that part of high school, right? Each Persona game has a slightly different twist on the bad guys, and this one is possibly the weirdest of all. And the people you can develop relationships include an old politician, a Tarot-card reader, a sexy gothic doctor, and one of your teachers, who is also a part-time maid (yes, that kind of maid). Persona 5 is the weirdest of the series yet, and as you get closer to the ending, it just gets more and more bizarre, culminating in one of the nuttiest boss fights I've ever seen. But, as with all Persona games, the story is compelling, the characters are relatable, the music is outrageously good, and the menus are so stylized that it's cool just to flip through them. I may have said "What?!?" a lot, but I also spent over 112 hours in the game, so it was definitely doing it right. – Nicole Kline
---
The Video Game Librarian Award
Being a gamer is about more than just playing video games. As we all know, movie studios are still looking for that breakout title that'll make "video game movies" the next great genre. But writers of fiction and non-fiction have been turning out some great stuff based on video games for years now.
Winner (TIE): 100 Best Video Games (That Never Existed) by Nate Crowley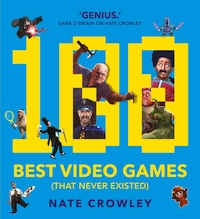 The story behind 100 Best Video Games (That Never Existed) is insane… Crowley posted a Tweet saying he would create an imaginary game for every like the message got. It got thousands. And he did it, boiling them down to this book, with fake characters, box art, animation the work behind these fake worlds is insane, offering the world's first post-truth book.
It also features a character called the Sex Orc. If that doesn't sell you, nothing will! – Andrew Rainnie

Winner (TIE): Crash Override by Zoe Quinn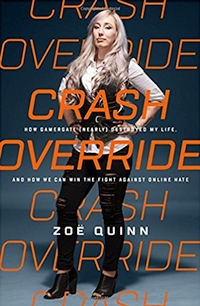 I watched a lot of friends go through some terrifying nightmares during Gamergate, but none of it compares to what Zoe Quinn went through. She didn't just survive the onslaught – she created a network called Crash Override, which is also the name of her book, to help people with online harassment. Working closely with the biggest social media and Internet companies, she helped them to develop better ways to deal with privacy problems and harassment. But her book isn't just how she turned this nightmare into an opportunity to help others – it's a raw look at her entire life, from her childhood to today, and how it shaped her into becoming what she is now: a strong woman who, even in the face of monsters, not only made her way through it all but wants to help others find their way as well. Quinn's voice is loud, proud, and here to show the rest of us the way to safety. – Nicole Kline
Winner (TIE): Blood, Sweat, and Pixels by Jason Schreier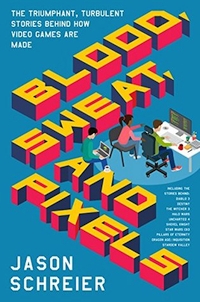 Leo Tolstoy once rather famously wrote that "happy families are all alike," but that "every unhappy family is unhappy in its own way." If you think of game developers as families, this quote could just as easily apply to all the major players in Jason Schreier's Blood, Sweat, and Pixels. Disaster lurks around every corner… whether you're a solo developer working in your bedroom or a multibillion dollar company operating at the top of the industry. And Schreier was able to capture it all. It's a fascinating look behind the development process of games like Stardew Valley, Destiny 2, and Diablo III. And it even gives readers a peek at Star Wars 1313, a game that'll cruelly never be. At least we got to read all about it. – John Scalzo