All Articles:
Amnesia: The Dark Descent

As a primarily console-centric gamer, I rarely use my PC to play games. But don't get me wrong… I know it's a great platform to play games on. I did download Undertale, and I do intend to play it, but quite frankly, my rig isn't powerful enough to handle some of the best titles that PC gaming has to offer. This is a bit of a bummer for me, as I know I am missing out on a lot of quality games that are exclusive to the platform, one of which is Amnesia: The Dark Descent.
My interest was piqued in the horror game when I first heard about how terrifying it is, and I started looking into it. Coincidentally, that's right around the time that "Let's Play" videos on YouTube began to rise in popularity. There was nothing more fun than seeing someone play a horror game and watching their reactions to the jump-scare moments. And as a fan of all things horror, I was immediately hooked. But unfortunately, I was never able to play Amnesia… that is, until now. (more…)
Holidays can be scary, but yesterday's PlayStation Store update will turn the terror up a few notches with the launch of the Amensia Collection for the PS4. The Collection includes all three horror games in the franchise, starting with the original game, Amnesia: The Dark Descent. PS4 players will also get the chance to scream their heads off with the expansion, Amnesia: Justine; and the sequel, Amnesia: A Machine For Pigs.
Speaking of scary… the apocalyptic Darksiders is also available to download for this week. THQ Nordic will re-release the action RPG for the PS4 as Darksiders: Warmastered Edition, and players will get to experience the game with an enhanced 1080p presentation for the first time.
Elsewhere on the PlayStation Store, PlayStation VR owners will be able to step onto a real basketball court this week with NBA 2K VR Experience. The basketball-themed minigame collection includes an appearance by Paul George, and a trio of shooting challenges in virtual reality.
Finally this week, Telltale will continue Batman: The Telltale Series this week with the release of Episode 4: Guardian of Gotham on the PS4 and PS3. Bruce Wayne has gotten himself into some Arkham-related troubles, but maybe The Joker can lend him a helping hand… and a smile.
More information about all of these games (and a few other new releases) can be found after the break. And a full rundown of this week's new add-ons is available at the PlayStation Blog. (more…)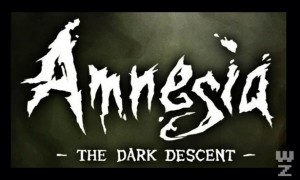 Though it's been done time and again, it's hard to go wrong with the classic Cinderella story of an underdog standing up to the big guy and coming out on top. This certainly isn't the premise of Amnesia: The Dark Descent, but it is for its indie game developer Frictional Games. These underdogs released their fourth PC game in their fourth year of business, and it has proven to be a game that won't be forgotten.
Before releasing their most recent game, Frictional's "dream estimates" of sales hovered around 100,000 units. In reality, that figure has doubled, with Amnesia selling almost 200,000 units after four months. The average daily unit sales for the game have not dropped below 200 units, which is impressive for an indie game in an age where anything can be found for free if a user knows where to look. Frictional has stated that they know these sales aren't typical, and they may be right, especially considering their marketing plan.
"While we tried to make as much noise as possible at the release of the game, our marketing efforts have been far from big," explained Frictional on their blog. The indie company released movie clips of the game, made demo versions available and sent out review copies for feedback, but the real marketing magic seems to have come from the users themselves.
Players spread their tales of playing one of the scariest games of all time, inspiring reaction videos to be made, one of which received about 775,000 views. And really, what better promotion is there for a horror game than a video titled "Holy shit, Amnesia WHAT THE [F—]"?
The most encouraging part of Frictional's story is their new-found financial confidence.
"We are now completely financially stable and have enough money to complete our next game without any problems," read Frictional's blog on Friday. Because a publisher was not hired for Amnesia, Frictional was able to keep all the royalties earned from their game without having to first pay back an advance and subsequent royalties due to a third party. Most independent developers and artists in the creative world won't see a penny of their royalties from just one album or term of contract for years. Frictional did it in four months.
Becoming a financially sound company may mean more risks taken by Frictional in the future, ranging from more frequent game releases to experimentation on console platforms.