All Articles:
Call of Duty: Black Ops Declassified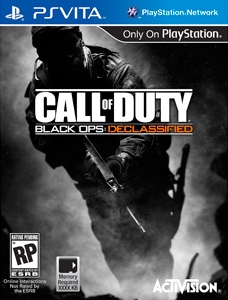 Yesterday was Tuesday, and as always, Sony has posted this week's update to the PlayStation Store for your shopping pleasure. Here's what PS3 and Vita players can look forward to this week:
The Vita-exclusive Call of Duty: Black Ops Declassified leads this week's new releases. Activision's portable military shooter is joined by Colors!, a new painting app for your Vita.
There are two new additions to the PS3 side of things: Namco Bandai's Tekken Tag Tournament 2 and an ala carte version of SingStar. Players who want to brush up on their karaoke skills can download the free SingStar client (which includes several demo songs) and then fill their hard drives with only the songs they want.
Finally, a pair of PSN titles round out this week's batch of new releases. Wicked Monster Blast! HD is a shooting gallery for your PlayStation Move controller (though it also works with a DualShock 3) and Planets Under Attack is a strategy game that features intergalactic warfare. Take that, Call of Duty!
More details on all of this week's new releases can be found after the break and a complete list of the latest game add-ons can be found at the PlayStation Blog. (more…)