All Articles:
Devil May Cry 2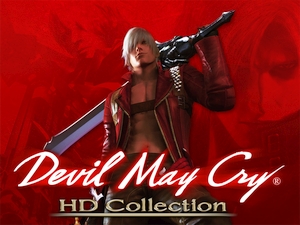 I'm not sure, but we may have just reached "Peak Remaster."
Capcom previously released the Devil May Cry HD Collection in 2012, which brought the first three games in the franchise to the PS3 and Xbox 360. Today, the publisher confirmed plans to re-release the re-release in 2018… for the PC, PS4, and Xbox One.
Set to launch on March 13, 2018 for a wallet-friendly price of $29.99, the Devil May Cry HD Collection will once again repackage the first three games in the series in one compilation:
Devil May Cry (2001)
This is the one that started it all, starring a mature and subdued Dante, which matched the mood and tempo of the game's sense of isolation during the exploration sequences and tough-as-nails boss battles. It's also the game that inspired my favorite TV game ad of all time:

Devil May Cry 2 (2003)
Taking place after the events of the first Devil May Cry, this sequel strives for a more cinematic look and feel to combat, changing things up in how the camera behaves, but also taking extreme care to make the animations more natural and fluid. Plus, you can unlock and play as Trish, featuring her own unique weapons and move set.

Devil May Cry 3: Special Edition (2006)
Focusing on the origins of our favorite demon hunter, this prequel features a much younger and more rambunctious Dante who cares very little about how much damage he's doing to even his own shop as long as he can chew his pizza and kick some butt. And he runs out of pizza.

Devil May Cry 3: Special Edition quickly took the spotlight as a fan favorite with the addition of combat Styles that significantly change the way you slay demons. These Styles can be selected and upgraded between each mission. This game also put a spotlight on Dante's relationship with his twin brother Vergil, who is an unlockable character with his own move set and gameplay.
You can read more about the Devil May Cry HD Collection at the Capcom-Unity blog.

Are you in tears over Capcom's steadfast refusal to admit a Devil May Cry HD Collection exists? Well quit yer crying because new ratings on the ESRB website have revealed that Devil May Cry, Devil May Cry 2 and Devil May Cry 3: Dante's Awakening will be released on the PS3 and Xbox 360 in the near future. Because each game is listed individually, Capcom is likely planning to release each HD remake separately like the upcoming Resident Evil 4 and Resident Evil: Code Veronica remakes.
But we can't say anything for sure until Capcom officially announces the Devil May Cry remakes for the PS3 and Xbox 360. I mean, what are they waiting for? Satan got their tongue?