All Articles:
Dragon Warrior
The future of the Dragon Quest series has been unveiled by Square Enix and Nintendo at a special media event in Japan that just ended. The two titans of the Japanese gaming scene have taken the wraps off of Dragon Quest X while also talking about the Dragon Quest Collection, a compilation of the first three games in the series (and their Super NES remakes), which will be released for the Wii in Japan on September 15. An American release is unlikely, but we can hope.
Dragon Quest X is being described as an "online RPG" similar to Dragon Quest IX. Players will be able to team up for multiplayer adventuring, but a strong single-player game will also be included. The game is being developed internally at Square Enix with Producer duties falling to Yosuke Saito (Drakengard, Nier).
Even with the "online" tag, the game looks to be a traditional entry in the Dragon Quest series with job classes, Slimes and turn-based battles. It also has a cel-shaded look that is very reminiscent of Dragon Quest VIII.
Best of all, Dragon Quest X will be available for the Wii and the Wii U. Yes, you read that right. The Wii U version will include enhanced graphics and cross-console play with the Wii version. The Wii version is currently scheduled for a 2012 release in Japan while the Wii U version is "TBA." Hopefully they make it to America as well.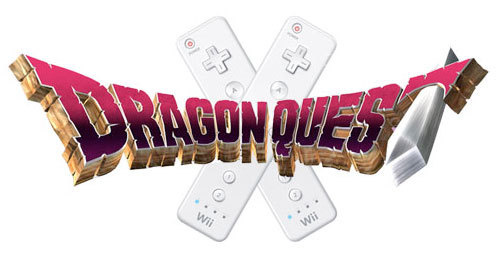 Many long-time fans were disappointed to learn that neither Dragon Quest IX nor Dragon Quest X would be heading to the PlayStation 3. Given what Level-5 did for the series on the PS2, one could only salivate at the idea of a HD Dragon Quest. However, that dream just might become a reality.
Andriasang reports that Square Enix CEO Yoichi Wada faced a good deal of harsh questions today, such as if Dragon Quest Collection will actually sell, given it features un-updated ports of the Famicom (NES) and Super Famicom (SNES) versions of the games. Wada responded yes, since they're being left untouched to celebrate the series' 25th anniversary. But another question came up, asking to know the logic of releasing DQX, a flagship title, on the Wii, a console past its prime.
Wada responded by stressing the importance of considering releasing the game on both the Wii and the upcoming Wii U. He also disclosed that Square Enix is already investigating their technical options when it comes to Nintendo's HD platform.
Warp Zoned Podcast Producer Ryan Littlefield and I were discussing the potential uses for the Wii U's controller for RPGs specifically, and I'm thinking the map system in DQVIII could make a great move here. While your favorite podcast personalities remain speculating, we can expect to learn more details about Dragon Quest X later this year.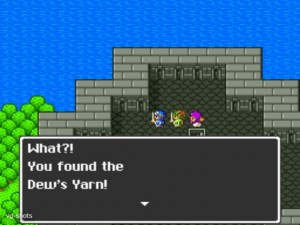 To celebrate 25 years of series that would become the architect of console RPGs, Square Enix has announced Dragon Quest Collection for the Nintendo Wii. Only confirmed for Japan so far, this very special bundle will include the original NES versions of Dragon Quest I, Dragon Quest II, and Dragon Quest III. For players needing a little more graphical fidelity, the collection will also boast the SNES remakes Dragon Quest I & II and Dragon Quest III. All games will be compatible with the Wiimote, Classic controller, and GameCube controller.
The first three games comprise what fans have dubbed "The Erdrick Trilogy" (or "Loto Trilogy" for the GBC remakes) of the franchise.
As of December 2010, Dragon Quest has sold over 57 million copies, defining a genre and becoming truly embedded in Japanese culture. Forget Xenoblade and The Last Story. For me, this is the one Wii RPG I desperately want to be translated for the US. Since publishing and localizing Dragon Quest IX and Dragon Quest VI, I can only hope Nintendo will take an even firmer affinity with the series and bring this over. Let's at least hope a translation of Dragon Quest X is in the cards when more details emerge later this year.