All Articles:
Duke Nukem 3D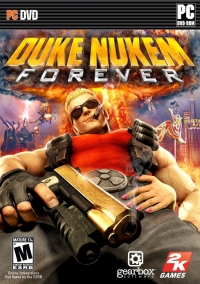 Duke Nukem's brash and cocky persona (which was borrowed wholesale from Bruce Campbell's appearance in Army of Darkness) made him the quintessential 90s hero. But even though we're more than two decades removed from the character's heyday (Duke Nukem 3D was released in 1996), Hollywood has finally come calling for Duke.
A film adaptation is currently in the works at Paramount, and The Hollywood Reporter is reporting that the WWE's John Cena is in talks to play the intergalactic alien hunter:
The wrestler-turned-actor is negotiations to star in Duke Nukem, a big-screen adaptation of the popular video game franchise featuring the politically incorrect action hero that is set up at Paramount.

Platinum Dunes, the company run by Michael Bay, Andrew Form, and Brad Fuller, will produce the movie.
Cena certainly looks the part, I'll give them that much. But giving Duke the same outdated shtick in 2011's oft-delayed Duke Nukem Forever definitely didn't win him any new fans.
That said, any Duke Nukem movie adaptation is likely years away because there's currently no script or director attached to the project.