All Articles:
Q*Bert Rebooted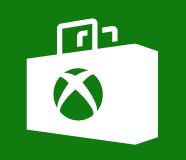 We've got three new additions to the Xbox Games Store to talk about today, and all of them have a decidedly old school vibe.
Q*Bert Rebooted: The Xbox One @!#?@! Edition (Xbox One) is a "re-imagined" version of the classic arcade game, but players are still expected to flip the board to a single color by hopping from cube to cube. This Xbox One-exclusive edition will include "enhanced gameplay," five new playable characters, and a soundtrack from EDM artist EnV.
In Space We Brawl: Full Arsenal Edition (Xbox One) isn't based on an older title, but it is a multiplayer twin-stick shooter where players battle it out with their friends to see who can be the last one standing. Offering more than 240 spaceship combinations, players will be able to customize their on-screen avatar to their hearts content.
Finally this week, D/Generation HD (Xbox One) is a remake of Robert Cook's isometric puzzle game from 1991. Dipping heavily into the cyberpunk canon, players will control a "jetpack courier" as he attempts to bring down an evil corporation and escape with his life.
More information on all of these games can be found after the break. (more…)

The Order: 1886, Ready At Dawn's cinematic take on a centuries old battle between steampunk assassins and a pack of werewolves will finally make its PlayStation Store debut this Friday, February 20. Even with the explosive popularity of the steampunk subgenre in recent years, the PS4 game definitely has a unique look and might be one to check out.
Several other PS4 games were added to the PlayStation Store yesterday including Dead or Alive 5: Last Round, an enhanced re-release of the popular fighting game; Hand of Fate, an action RPG/deckbuilding game; and Trivial Pursuit Live!, a game show-like reimagining of the popular board game (it's also available on the PS3).
On the Cross-Buy front, Q*Bert Rebooted brings the original arcade game and a "rebooted" sequel with hexagonal platforms to the PS3, PS4, and Vita.
More information on all of these games (and a few others) can be found after the break. And a complete rundown of this week's new game add-ons and discounts can be found at the PlayStation Blog. (more…)
Show of hands, who remembers Q*Bert? Anybody? Q*Bert was an alien-looking little guy who served as the main character of a mostly forgotten 80s arcade classic also known as Q*Bert. After players plugged their quarter in, they helped Q*Bert climb to the top of a pyramid of stacked cubes over and over again.
After an appearance in Wreck-It Ralph, Q*Bert will return in Q*Bert Rebooted. Originally released for Steam and mobile devices last year, Q*Bert Rebooted will be available to download from the PlayStation Store very soon.
In addition to the original arcade game, Q*Bert Rebooted's main draw is the… wait for it… all-new Rebooted mode. Now, Q*Bert doesn't just climb cubes, but hexagons as well. Writing on the PlayStation Blog, Jason Sorensen of Loot Entertainment said that the five-way movement allows for "really interesting level designs, especially later in the game." The game will also add a variety of new features to the time-tested franchise including "time and score challenges, new enemies with their own unique behaviors, new playable characters, power-ups, traps, and gem-collecting."
Just how close is the PlayStation version of Q*Bert Rebooted? Very close. The game will be available for the PS3, PS4, and Vita as a Cross-Buy title next week on February 17.