All Articles:
Shadows of the Damned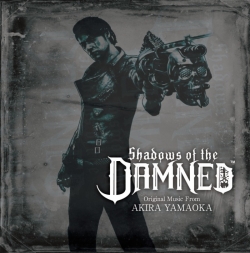 Shadows of the Damned was a unique game to say the least. It was chock full of memorable characters and weapons. I quite enjoyed the demon harmonica player. But the most striking thing about the game was that it eschewed the expected heavy metal soundtrack in favor of a more haunting and melodic blend of nylon string guitar, horns, and reverberating drums.
Now you can experience the music of Shadows of the Damned in a brand new way with the release of its stellar soundtrack by Akira Yamaoka. He set out to do something a little bit different with the release of this album.
"I wanted to craft a soundtrack that was more than just a collection of the most popular songs from Damned. I set out to create an experience that would take players back to the game, as if they were 'watching' a movie," Yamaoka said.
The music certainly does bring back the macabre atmosphere of the game. All you have to do is close your eyes and you can watch the whole story unfold once again. The famous rock band The Damned even make an appearance on the album. How appropriate.
You can purcahse the Shadows of the Damned soundtrack now at the Grasshopper Manufacture WebStore. But you better hurry, it's limited to 1,000 copies.