All Articles:
Shin Megami Tensei IV

It's a "grab bag" week of new releases as there's a little something for everyone.
Atlus is bringing their popular Shin Megami Tensei series (known as MegaTen to fans and well wishers) back to the 3DS with the fourth numbered entry in the series, Shin Megami Tensei IV. It will be joined by Time and Eternity, a hand-drawn PS3 RPG from NIS America, that other Japanese RPG powerhouse.
Fans of action games will be happy to know that another Dynasty Warriors game will be available in stores this week. Dynasty Warriors 8 will be released for the PS3 and Xbox 360. In other action news, somebody packaged all of the Serious Sam games together for the Xbox 360-exclusive The Serious Sam Collection.
Finally this week, Turbo: Super Stunt Squad, from DreamWorks and D3 Publisher, will be released on nearly every system known to man: 3DS, DS, PS3, Wii, Wii U, and Xbox 360.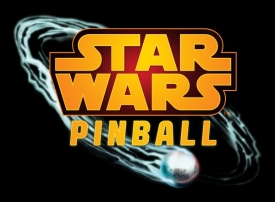 May the TILT may be with you! Zen Studios has added their Star Wars-themed pinball collection, Star Wars Pinball, to the Wii U eShop this week. Also available this week for the Wii U is a pair of NES classics: Donkey Kong and Metroid. Come to think of it, the lone addition to the 3DS eShop today, Super Mario Bros. 2, can also be considered an NES classic.
Next Tuesday, July 16, Nintendo will add three more games to their download services. Turbo: Super Stunt Squad, a game based on the DreamWorks animated film of the same name, will be available to download for the 3DS and Wii U. Finally, Shin Megami Tensei IV, the latest game in the popular RPG series from Atlus, will also be added to the 3DS eShop.
Nintendo and Atlus have also teamed up to offer a big bonus if you purchase Shin Megami Tensei IV by August 31. If you buy the game and you already own Fire Emblem: Awakening (or if you purchase it by August 31), you'll receive a $30 eShop credit. Score!
As always, more information on all of these games can be found after the break. (more…)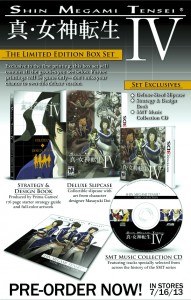 This afternoon's Nintendo Direct presentation was stuffed full of new information on a ton of different 3DS and Wii U games. And if you're an RPG fan who also happens to own a 3DS, Nintendo has two dates they want you to circle on your calendar.
Atlus' long-awaited Shin Megami Tensei IV will be available on July 16 in a special Limited Edition box set. In addition to the fourth game in the series, SMT fans will be able to obtain a special Strategy & Design Book and a SMT Music Collection CD. According to Atlus, after the first printing of the game, this special edition will be gone.
Finally, Mario & Luigi: Dream Team will be available in stores and the 3DS eShop on August 11. A teaser trailer for the game can be found after the break. (more…)