All Articles:
StarCraft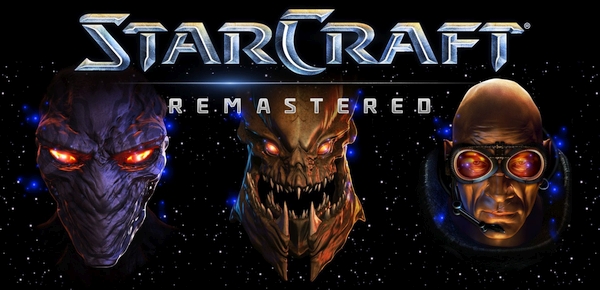 Blizzard has announced that gamers will get the chance to look at StarCraft in a new way this Summer with the launch of StarCraft Remastered on August 14. Featuring rebuilt visuals that support up to 4K resolution, StarCraft Remastered will feature the same gameplay that RTS fans fell in love with almost 20 years ago. It'll also come bundled with the Brood War expansion, as well as an option to revert to the original graphics at the press of a button:
StarCraft Remastered Features

Full graphical upgrade of the original StarCraft and the StarCraft: Brood War expansion
Widescreen UHD support for up to 4K resolution
New matchmaking and leaderboards
Player profiles that track individual statistics
Cloud saving for campaign progress, hotkeys, and replays
Higher fidelity music and sound
Switch between Remastered and the original StarCraft with the click of a button!
StarCraft Remastered will be priced at $14.99, and players who pre-order it will receive three unique Building Skins (Char Hive, Korhal Command Center, and Aiur Nexus), and several other in-game bonuses for StarCraft II (Alexei Stukov Co-Op Commander and three unique Portraits).
"Nearly 20 years ago, StarCraft welcomed millions of gamers to an epic sci-fi universe—and also helped form the foundation for esports as we know it today," said Mike Morhaime, the CEO and co-founder of Blizzard Entertainment. "Passionate gamers around the world are still playing Brood War, both with friends and competitively, so we're modernizing the technology behind StarCraft so that they can continue to enjoy the game for many years to come."
A new trailer for StarCraft Remastered can be found after the break, and if you just want to see what all the fuss is about, you can download the original game for free from StarCraft.com. (more…)
The original StarCraft can be credited with a lot of things. It revolutionized the real time strategy genre… it lead to the birth of esports… it further cemented Blizzard's status as one of the best developers in the world. This weekend, the developer confirmed plans to re-release the seminal game this Summer in an enhanced and expanded edition known as StarCraft Remastered:
The remastered graphics and audio will bring a modern look and feel to the timeless classic, with widescreen UHD support for up to 4K resolution. Other updates will include new illustrations to enhance storytelling in the StarCraft and StarCraft: Brood War campaign missions; advanced matchmaking; full connectivity to Blizzard's gaming network for social features and updates; cloud saving for campaign progress, custom maps, replays, and keybinds; support for eight new languages in addition to the original five; and more.
While Blizzard is modernizing StarCraft's presentation, they were also quick to point out to fans that the actual gameplay experience won't be changing:
While these improvements will bring StarCraft to the modern era, gameplay and balance have been precisely preserved, for an experience that will feel identical to veteran players.
"StarCraft is a pure distillation of Blizzard's DNA… its story, its balance, and all the little details reflect our long-running commitment to epic entertainment, and it's been a staple in competitive gaming and esports for almost 20 years," said Blizzard's CEO, Mike Morhaime. "With StarCraft Remastered, we're modernizing the original game's visuals, audio, and online support to ensure that players can enjoy StarCraft for another 20 years and beyond."
In addition to announcing StarCraft Remastered, Blizzard also confirmed plans to repackage the original StarCraft, and its Brood War expansion, as the StarCraft Anthology. If you've never played StarCraft before, you'll be interested to learn that this classic collection will be free to download, and it'll be available sometime next week.