All Articles:
Super Stardust Ultra

Evolve (PS4) roars onto the PlayStation Store today as Turtle Rock's "4v1" shooter asks players to choose a side between four human Hunters and one massive Monster. It's joined this week by Super Stardust Ultra, a space shooter with a big history on PlayStation platforms; Minutes, "a twisted form of bullet hell" (also Cross-Buy on the Vita); and Unmechanical: Extended, a puzzle platformer staring an adorable robot (also Cross-Buy on the PS3).
Speaking of the PS3, it's now home to the multiplayer medieval brawler Chivalry: Medieval Warfare as well as the "cross-dimensional" space shooter Hyper Void.
Finally, the Vita will receive the fantasy platformer AeternoBlade, and the monkey rhythm game Jungle Rumble: Freedom, Happiness, and Bananas.
More information on all of these games can be found after the break. And, as always, a complete list of this week's new game add-ons and discounts can be found at the PlayStation Blog. (more…)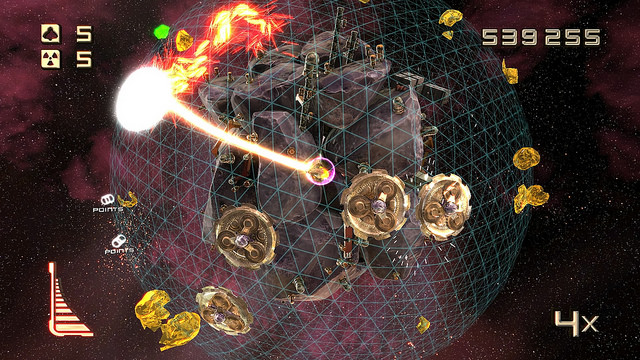 Housemarque's addictive twin-stick shooter, Super Stardust, is going to debut on the PlayStation 4 in early 2015 as Super Stardust Ultra. Developed by D3T and XDEV, this new addition to the franchise will include new planets, more game modes, and enhanced visuals, according to the PlayStation Blog. One of the new game modes is Interactive Streaming, where others can watch you play – and vote to change your gameplay. You'll also be able to "send and receive challenges from your online friends," as well as play "in 2-4 player split-screen battles or team up in co-op mode."
There's no release date yet, but Sony announced that the launch price will be $12.99. Look for Super Stardust Ultra to come to your PS4 sometime in early 2015.