All Articles:
The Awakened Fate Ultimatum

Are you ready to play cops and robbers? I hope so, because EA's Battlefield Hardline is now available to download through the PlayStation Store for the PS4 and PS3. Developed by Visceral Games, Hardline moves away from international conflicts and instead depicts the ongoing war between criminals and cops.
Also available this week is Final Fantasy Type-0 HD, an action RPG from Square Enix that is making its PS4 debut more than three years after it first appeared on the PSP. But in all that time it never made its way across the Pacific, so Final Fantasy fans definitely have something to celebrate. But those fans also have another reason to be happy about Type-0… it comes packaged with a playable demo of Final Fantasy XV.
Jamestown+, a PS4 shooter that takes place on a "17th-century steampunk Mars," is this week's Spring Fever selection. And over on the PS3, NIS America has added the roguelike RPG The Awakened Fate Ultimatum to the PS3 side of the PlayStation Store.
Finally, we have to talk about new entries from two episodic games. This week marks the end of Resident Evil Revelations 2's episodic release. Episode 4, Metamorphosis, is now available on the PS4 and PS3. But Telltale's Tales From the Borderlands is still ramping up as Episode 2, Atlas Mugged, was also released for the PS4 and PS3.
More information about all of these games (as well as a few others) can be found after the break. And a complete rundown of this week's new game add-ons and discounts can be found at the PlayStation Blog. (more…)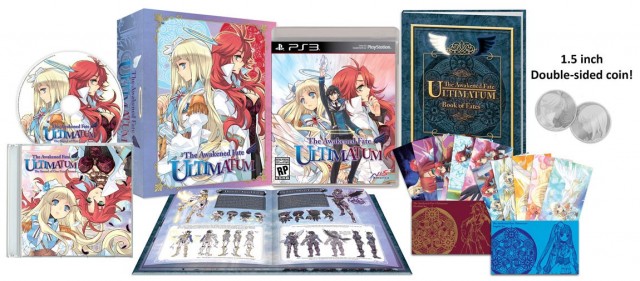 The Awakened Fate Ultimatum will be coming to PlayStation 3 on March 17, and you can order it now at the NISA Online Store. There's the regular edition, and then three exclusive sets to choose from – "Angelic," "Devilish," and "Ultimate Fate," the last of which is pictured above and will include everything from the other two sets plus more. NISA knows how to treat its fans!
The complete details on the contents of all four editions of the game can be perused at the NIS America Store.
For those of you unfamiliar with the game, it follows a human boy who gets stabbed by devils, and is saved by a mysterious girl. He's had the "Fate Awakening Crystal" implanted into his chest, which turns him into God. "He finds himself thrust into the middle of the war between angels and devils," which is sort of to be expected at this point. "He must harness his newly awakened powers, choose how to use them, and ultimately decide which of the two new girls in his life he will do anything to save."
Check out The Awakened Fate Ultimatum when it releases on March 17 for PlayStation 3.