All Articles:
WipEout 2048
Vita owners will finally get the chance to make use of Sony's PlayStation Plus program on November 19. The premium service will be expanded to include the handheld as part of the Vita's next system update (2.00).
As previously announced, the popular "Instant Game Collection" will come to the Vita in a big way with six games available for download in the first month. The initial "Instant Game Collection" includes Uncharted: Golden Abyss, Jet Set Radio HD, Wipeout 2048, Gravity Rush, and Tales From Space: Mutant Blobs Attack!, as well as the PSP title Final Fantasy Tactics: The War of the Lions.
Even with the inclusion of Vita games to the "Instant Game Collection," a PlayStation Plus subscription remains $17.99 for the three-month plan and $49.99 for a year.
Besides the addition of PlayStation Plus, additional functionality will be added to the Vita in the 2.00 update:
Email: Check read and send email directly from PS Vita
Content Management: Wirelessly transfer content between PS Vita and PC in addition to browsing folders on PS3/PC and copying them to PS Vita
PSone Classics: Now assign controller buttons to touchscreen, rear touch pad and buttons with select games on the PS Vita system
PSone Classics: Custom screen mode option for flexible screen size adjustment
Web Browser: Enhanced performance of the web browser along with improved support of HTML 5 and JavaScript
Web Browser: Ability to "Tweet" web page addresses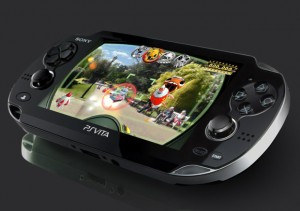 With the Vita First Edition Bundle now available in stores, Sony has flooded the PlayStation Network with games and content for the handheld system.
A total of sixteen Vita games are now available for your playing pleasure including Uncharted: Golden Abyss, Lumines: Elecronic Symphony, Wipeout 2048, and many, many more. PlayStation Store exlcusives Escape Plan and Super Stardust Delta are also now available to download.
But don't think Sony has forgotten the PS3 (or PSP) just because the Vita is vying for your affection. A Move-compatible version of The House of The Dead III and Worms: Ultimate Mayhem can be had for your PS3 while Hakuoki: Demon of The Fleeting Blossom is available for the PSP.
And let's not forget that demos for Mass Effect 3 and Binary Domain can be downloaded today as well.
Wow. You can check out all the games available in this week's update after the break and for a full list of all of this week's new game add-ons, I refer you to the PlayStation Blog. (more…)

The PlayStation Vita can work as a controller for the PS3, Sony revealed at the Develop Conference 2011. R&D Manager of Sony Europe, Phil Rogers, said, ""PS3 can send data down to Vita and Vita can display it. You could use the unique features [of Vita] – gyroscope, touch front and back – as a control device for a PS3 game."
Rogers said that games states can be synced on both devices using the network, and why that matters: "you then have the processing power of PS3 doing that work, Vita [doing] fancy graphics – however you want to do it. You're not sacrificing the PS3's CPU to be able to have a rich experience on Vita."
The Vita will also have cross-platform play, which Rogers has confirmed will be available at launch. They demonstrated with WipEout 2048 on Vita and WipEout HD on PS3, and also mentioned that Hustle Kings will support this feature as well.
And, of course, there's Continuation Play, in which a player can play on the PS3 and then continue their game on the Vita. "We have a system called Title User Storage, which allows 1MB of data on our servers for games," Rogers said. "You can save your game on PS3, go over to Vita, pull that data back and swap it between them, so you can play a game at home, take it on the train and continue."
Ruin, which was shown at Sony's E3 press conference, is the only game confirmed to support this feature so far, but there are more games in the works (at least one by Hideo Kojima, am I right?). This announcement makes the PlayStation Vita seem a lot more similar to the Wii U's new controller. There's also the recent price drop announcement of the 3DS that the Vita will have to contend with when it launches. Dramaaaaaa!
[Source: Eurogamer]