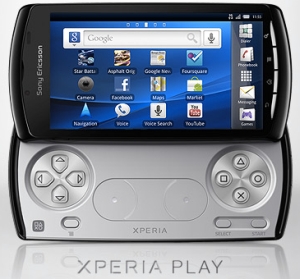 Sony's "PlayStation Phone" was revealed earlier today at the Mobile World Congress in Barcelona and it looks like it may be everything gamers on the go are looking for in a phone/handheld hybrid.
The Xperia Play (the phone's official name) will launch in the US in March and exclusively be available through Verizon. No pricing details were announced, but gamers will receive a phone that comes equipped with a D-Pad, two trackpads for analog control, four PlayStation-branded face buttons and two shoulder buttons. In other words, the Xperia Play is nearly a complete portable PlayStation experience.
As the first PlayStation Certified device, the phone will run all of the PlayStation Suite software in development at Sony and at third parties like Activision, Electronic Arts, Namco Bandai, PopCap and Ubisoft. Xperia Play buyers looking to get their game on won't have to wait long after its out of the box, the phone will come pre-loaded with Asphalt Adrenaline 6, Bruce Lee, Star Battalion, The Sims 3, and Tetris. Other games in development for the Xperia Play include Need For Speed, a world-first multiplayer version of FIFA 11, Guitar Hero, Assassin's Creed and Tom Clancy's Splinter Cell.
In total, more than 50 games are in development exclusively for the Xperia Play, in addition to all of the games found on the Android App Store, which are also supported by the super sexy phone.