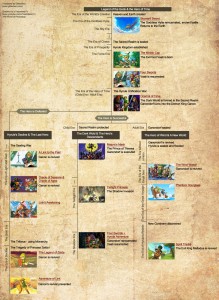 Behold, the official timeline of the Legend of Zelda franchise in all its translated glory (click to enlarge)!
With Hyrule Historia now available in Japan, Zelda translator extraordinaire GlitterBerri has unveiled a more complete English language version of the timelime, confirming the three-way split in the timestream. GlitterBerri also said that longtime Zelda producer Eiji Aonuma is listed as the Supervising Editor of Hyrule Historia, so that's as close to an official stamp of approval as you can get.
Nintendo obviously isn't going to stop making new games in the Legend of Zelda franchise anytime soon (in fact, a new Zelda game is in development for the 3DS as we speak), so it'll be interesting to see where future titles fit into the timeline.