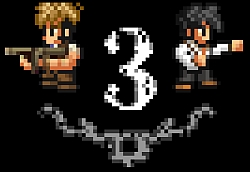 Zeboyd Games, the creators of Cthulhu Saves the World and Breath of Death VII, recently took up development of Penny Arcade Adventures: On the Rain-Slick Precipice of Darkness – Episode 3. Original developer Hothead Games left the project to work on other projects, but Penny Arcade's artist Mike "Gabe" Krahulik and writer Jerry "Tycho" Holkins are ready to show off the redone game at this year's PAX East. Zeboyd has also signed on to develop a fourth installment in 2013.
Con-goers can get a first look at the game in Zeboyd's booth on the Expo floor, and can also attend a panel with Jerry Holkins, game producer Jeff Kalles, and game leads Robert Boyd and Bill Stiernberg at 9:00 on Friday, April 6th to get some details on the game's development.
The game, now rechristened Penny Arcade's On the Rain-Slick Precipice of Darkness 3 is slated for a Summer release on the PC, Mac, the Xbox Live Indie Games channel, iPhone, iPad, iPod Touch and Android, so if you own any kind of gaming technology, odds are you can find a way to play this one.
If you can't make it to Boston this weekend, check out the official website or an in-depth behind-the-scenes look at the game's genesis at Joystiq.