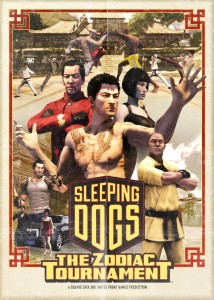 The second downloadable expansion for Sleeping Dogs, "The Zodiac Tournament," will be available to download on December 18.
Unlike the self-contained storyline featured in "Nightmare at North Point," "The Zodiac Tournament" will hook into the main game and add a mysterious island to the game map. Don't worry, the island isn't populated by Smoke Monsters or misfit toys, but it does host a fighting tournament that Wei Shen can enter if he's tough enough.
As you can see from the poster on your right, "The Zodiac Tournament" will draw heavily from Bruce Lee's classic film, Enter the Dragon. It even includes a Mr. Han-like evil mastermind.
[Source: CVG]