Welcome to our monthly trek into the tumultuous world of crowdsourcing donations that is Kickstarter. As always, we have picked a handful of new gaming projects that we feel are worthy of your hard-earned cash. You could master how to manipulate the world with your brainwaves in Throw Trucks With Your Mind, or spread the bubonic plague in Death Inc. Perhaps you would rather fly trading missions through space in Rogue System, or play as an elemental wolf in Omega. If that does not whet your appetite, you could also play a mash-up of old games in Enemy, or delve into Jewish folklore to take on The Golem.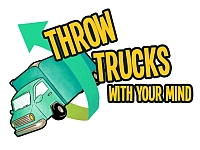 Throw Trucks With Your Mind
Well, kind of. Lat Ware and his team intend to make a game that is literally enhanced by your brainwaves. Although the game will feature standard controls, it will take advantage of NeuroSky's MindWave device to measure your brain's activity. The more you concentrate, the stronger your telekinetic abilities will be within the game, allowing you to throw objects at other players. The calmer you are, the greater control you will have.
The team hopes to gain enough funding to create online servers, where players will have psychic battles. However, this will require you to own a MindWave, and at $100 they are not the cheapest contraptions for gaming. Still, if you want to pretend to be one of the X-Men with mental abilities, this could be a stepping stone until your X-gene triggers.
Ware is seeking $40,000 to get the project off the ground. A $5 donation will see your name in the Special Thanks credits, while $25 will see you receive the actual game. They also offer a bundle with the MindWave for anyone making a $125 pledge. At the top end of the scale, a pledge of $1,000 (limited to four) will allow you to design your own character, while $3,000 (limited to three, with only two left) will see you create your own arena to be featured in the final game.
Death Inc.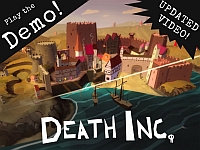 Anyone who accuses the British of being a bit grim should take heart in Death Inc., an adorable strategy game from Ambient Studios. The game comes with a delightfully horrible premise: kill people by spreading the bubonic plague. Featuring a gorgeous folded paper art style and a freelance grim reaper named Grim T. Livingstone, the game fuses the RTS genre with elements from god games and fun simulations similar to those made by Bullfrog. The more people you infect and kill, the more money you make, allowing you to expand your reaper empire.
Ambient is seeking £300,000 to bring the game to PC and Mac, although they have stated that if demand is high, they may explore other platforms such as Ouya and Wii U. For a donation of £15, you will receive a digital copy of the game on release, while for £40 you will have access to the beta testing, and get to name a villager and also a cow (which may explode). At the top of the tower, a £2,500 pledge (limited to 10) will grant you a day's visit to the studio, as well as your likeness being placed in the game as a noble lord or lady, along with your own coat of arms. Should you wish to go one further, the highest pledge of £5,000 will see you cast as the king and queen, the Reaper's main target in the game. The studio will also have an oil portrait commissioned to capture your 17th Century likeness, then gifted to you in a frame.
Rogue System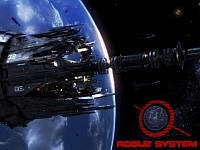 If trading in death is not your scene, then perhaps trading from a spaceship is. Rogue System seeks to put a player in full command of their vessel, marrying complex flight-sim controls with space combat. The game is the pet project of Michael Juliano, a longtime game developer who has spent the last two years developing the prototype that he has now pushed into the pre-Alpha phase. What he is looking for now is $300,000 to create a team that will take his solo material and flesh it out into a fully realised universe. The core module of the game will see you start as a fighter pilot, but gradually learn to control and manoeuvre larger, more complex craft, while earning a wage that can be spent in-game. The level of detail and design that Juliano has thought out shows he has a meticulous mind, one that is willing to take his time and develop the game until it is perfect.
A pledge of $5 will see you receive updates as well as Juliano's gratitude, while $20 will see you receive a digital copy of the Rogue System Core Module (the main game) when it is released, as well as a membership ribbon that your in-game character will wear with pride. On the flipside, the largest donation level of $10,000 (limited to 10) will see you receive the game and all extension modules, various goodies (T-shirt, models of crafts) as well as being invited to webchats with Juliano and, more importantly, as a VIP at the launch party. While you have to pay for your own travel costs, the price does include accommodation for two nights.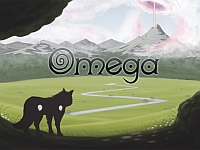 Omega
If you were to imagine Okami as a side-scrolling platformer, you may conjure up something similar to Steve Stanley's Omega. In a world where humanity has vanished and animals have been infected with insanity, a lone wolf wakes up to find he has elemental powers. Seeking out an oracle for answers, he ventures through various environments, rendered in a luscious hand-drawn art style.
Stanley's goal is to create a platformer where player choice is key; there will be numerous routes to the level's end, but those who choose the harder paths will be rewarded with increased powers and a greater understanding of the game's story through clues hidden within the levels themselves. He is seeking the modest amount of £20,000 in order to spend a full year developing the game, and allow him to bring on people to develop the sound, music, and other aspects. For the minimum pledge of £7, you will receive a full copy of the game, while £15 will see you gifted with the soundtrack and art book as well. Should you have a bit more cash to throw to the wolves, for £500 (limited to five) you can create your very own wolf design to be implemented in the game, which other players will see as part of their pack.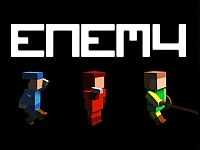 Enemy
Another solo effort, this time from American Tom Johnson, Enemy is a mash-up of all your old favourite games wrapped in Minecraft graphics. The game will change every time you play, both in location and storyline, mixing in any number of scenarios. However, it is essentially a role-playing game that will allow you to build your character's skilltree. The turn-based battles are inspired by X-COM, but be careful: when you die, you lose that character permanently.
Johnson has avoided any explicit reference to the games he is paying homage to, but any gamer worth their salt should be able to tell what they are. However, the retro elements are not just within the game. For pledges of $100, you will receive the game in a replica NES cartridge, which will function as a custom flash drive so you can plug 'n' play. Should you wish to donate $500, you will receive a rare gold cartridge. The smaller pledges of $10 towards the $15,000 goal will see you receive a copy of the final game.
The Golem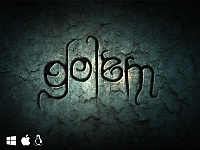 There are ambitious projects, and then there is Moonbot Studios's action-RPG, The Golem. Taking their inspiration from the Jewish folktale about the creation of the Golem, the game is played from the point of view of the constructed beast, charged with defending 16th Century Prague from the evil Cesare Borgia (who you may remember from Assassin's Creed: Brotherhood). With its past rooted in film and interactive apps, Moonbot is bringing the story of the Golem's search for a soul to life in stunning, cinematic style, inspired by the Renaissance artwork of the period.
This large-scale endeavour is not cheap, with a price tag of $750,000. For $15 you will receive a full copy of the game, while if you choose to double-down at $30 you will also receive a copy of the soundtrack. However, to reach $750,000, Moonbot is hoping some people will splurge for their $10,000 pledge, which features a visit to the studio in Shreveport, Louisiana (flights and accommodation not included). Your likeness will also be captured and placed in the game as a statue around the city of Prague, and you will receive a 3D print copy of that to take home.
There you have it reader,: a bounty of game projects in need of your financial assistance in order for them to be fully realised. As the old adage goes, "it is better to give than to receive." If you happen to be a developer, or work for a studio thinking of trotting down the crowdfunding path, feel free to let us know about your project, so we can include it in the next edition of Kickstart This!