It's the start of June, which means it's almost the start of summer! Having already caught some rays, me and my peely-waly Scottish skin are now hiding indoors with some mild sunstroke. What better way to spend an evening than trolling through Kickstarter for a worthy project to donate to while peeling burnt skin from my searing red arms?
This month, why not save the universe one shot at a time in Space Monsters Love Bullets, race giant Russian trucks in Spintires, or ride the light fantastic in the magical RPG Reobirth: Magic's Awakening? There is also the RPG/JRPG/MMO mash-up SideQuest, the chance to help The Gaming Gang cover a dozen sci-fi and gaming conventions in the latter half of 2013, and last but by no means least, Deus Ex Machina 2, a "re-imagining" of the classic game, featuring the voice of Saruman the White himself, Sir Christopher Lee!
Squeeze that sun cream, baby!
Space Monsters Love Bullets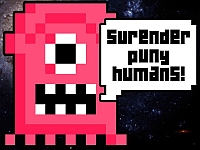 This free-to-play mobile game takes Space Invaders and adds the economics of all those bullets that are spent shooting into the sky, paying and retaining the poor souls that man the big space cannon shooting at those pesky linear aliens. Too many stray shots may result in the destruction of the entire world.
The project is the creation of American Michael Wilson, who is seeking the reasonable sum of $12,000 to bring his pixelated world to near destruction. He has made a number of other games, including Miniverse Minigolf, Let's Go Bowling, and Mad Orbit, all of which you will receive if you donate $35 or more. At the top end of the big shiny cannon of cash, if you offer a pledge of $1000 or over you will receive an Executive Producer credit, have a special in-game item named after you, and you will also get a pixel art t-shirt and some stickers.
Spintires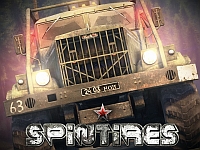 Designed by UK outfit Oovee Games, this amazing looking Windows-only racing game takes players out of the comfort of the race circuit and drops them into the wilderness of Russia, driving heavy vehicles through forests and tundra to complete challenges. Oovee has designed the new VeeEngine specifically for this game, utilising the Havok physics engine to provide a realistic, gritty, and unpredictable experience.
The studio is hoping to expand its impressive and well-praised demo with a £40,000 injection from Kickstarter. For £20 (limited to only 1000) you will receive a full digital copy of the game, while for double the amount you will also receive an in-game credit and an exclusive backer-only code for a DLC pack. Oovee has kept their top tier quite low, with the modest £100 (limited to 100 donors), which essentially sees you enveloped into the developer fold. You will receive a closed beta copy, access to development tools for modifications, and all previous rewards.
Reobirth: The Awakening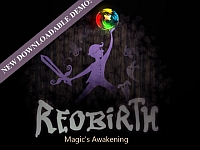 Another Windows-only title, with Mac and Linux teased if the target is met and then some, this fast-paced 2D action RPG combines exploration, magic, and adventures. The player controls a small boy who mysteriously appears on an airship, The Hove, which has become an ark to humanity after Earth was devastated by the titular Reo, an elemental magical force that has created dark and deadly creatures.
Featuring over 40 spells, creator Jon Dibble will also include the Keprus Motion animation editor so you can create your own monsters and collectible items, and share them with other players. For the small donation of $10 you will receive a digital copy of the game, while for $20 you will also receive the soundtrack composed by Ben Rawles. Hovering in the clouds alongside The Hove are the rewards for a donation above $500, which will see you work alongside the designers to create a monster to be included in the finished copy of the game, as well as receiving a credit as a Special Contributor.
SideQuest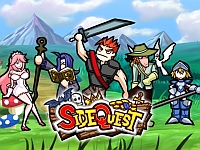 Onwards to another RPG project, this one taking elements from all the sub-genres such as MMO, JRPG and action RPG. Fractal Entertainment is hoping to take a more satirical approach to the material, reimagining various gaming clichés in a quirky cartoon style. You can take "grizzled warrior Krug, voluptuous healer Kissa, geeky wizard Khyberistarian, seedy archer Talon, or hotheaded knight Caerwyn" into battle with the stereotypical Epic Bosses. As well as having a PvP mode, Fractal Entertainment has promised the game will be free-to-play and fully accessible without being constantly cajoled into purchasing in-game currency (here known as Multivolts). There is even a collectible card game within the actual game called CardSlayers!
The company has also learned from a previously failed Kickstarter campaign (they should have read our Kickstart This! How To Guide) and has greatly improved their reward tiers while seeking the modest amount of $5,000. All pledges will receive a certain amount of Multivolts, from $5 (60MV) to $500 (1000MV). With the latter amount being the higest donation, you also receive VIP status, giving you access to the game code, early beta access, meet and greets with the various designers at Fractal via Skype, artwork, a weapon, and an NPC designed by you, ti's a pretty hefty horde of treasure!
The Gaming Gang 2013 Convention Coverage Project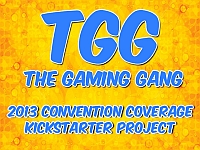 The Gaming Gang is a squabble of Internet assassins who run a website dedicated to gaming and geek culture. Led by Chicago-born Jeff McAleer, the founder of the site and host of the Nerdtacular podcast, TGG's Kickstarter campaign is all about creating a "warchest" so that they can visit as many conventions as humanly or alienly possible, and bring you the highlights via the website. The cons in question range from the famous (San Diego Comic-Con and Dragon*Con) to the more obscure (GeekGirlCon and Die International Spieltag in Germany).
Of course, The Gaming Gang do not expect to go jaunting around the globe without rewarding your kind donations. For the tiny amount of $5, you will receive a personal "Thank You" postcard designed by TGG's very own Dion Long, which is pretty shiny as rewards go. For $10 you will also receive The Gaming Gang Guide to Great Game Mastering Bundle, which includes both the PDF and MP3 audiobook versions. At the opposite end of the spectrum, a pledge of over $1,199 (limited to only one lucky soul) will see three members of The Gaming Gang turn up on your doorstep (assuming your welcome mat is in the US of A) to spend a day gaming, filming the experience and editing it into a custom DVD for your collection. They will bring games that are not even released, and shower you with a shed load of goodies.
Deus Ex Machina 2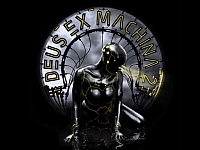 Normally the term "re-imagining" leaves me limp and cold (SEE: Syndicate), but not when video games pioneer Mel Croucher says he is re-imagining Deus Ex Machina almost 30 years after the release of the original, and that he is bringing Sir Christopher Lee along for another ride into the machine. Fondly remembered for its soundtrack (which can be listened to on the new game's official website, the sequel will raise Ian Dury from the grave, using his original vocal sessions.
Croucher has set a goal of £64,000 to complete the PC, Mac, iOS, and Android versions of the game, as well as perfecting the new soundtrack that will hopefully match the original. Built using the Unity engine, the game looks like a trippy spasm of gameplay that explores similar themes to the first game.
So what rewards are there for resurrecting this cult classic? For the tiny pledge of £1, you are granted online access to the development of the game for Android and iOS, allowing you to vote for key design features. £3 will gift you with the game's MP3 rock album, featuring the vocals of Sir Christopher Lee, Ian Dury, and Chyna White. It also has bonus tracks and exclusive interviews. In order to actually get a hold of the final product you will have to extend your cash injection to £15. On the flipside of that coin, a super donation of £3,250 or over (limited to one generous gamer) will see you invited to spend a day with the Automata team, including attendance at the celebration party. You will also receive a vintage poster signed by the original cast and crew, and a Co-Producer credit.
And on that high note, we come to the end of yet another edition of Kickstart This! The sun is soon to set on some of these projects, but hopefully you can bring their developers and designers a little light (and coin) before they are consumed by the darkness and dismay that follow a lack of funding.
And remember, always wear sunscreen.