Steve Jackson's Sorcery! is a choose-your-own adventure game on iOS for iPhone and iPad. Developed by Inkle Studios, the first episode, "The Shamutanti Hills," is now available. The game is based on a series of interactive texts written by Steve Jackson and illustrated by John Blanche, which were originally published in the early 1980s. They have translated well to the digital world, beckoning in a fresh new world of gameplay without sacrificing imagination.
Platforms: iOS
Publisher: Inkle Studios
Developer: Inkle Studios
Genre: Choose-Your-Own Video Game Adventure
Release Date: May 10, 2013
iTunes App Rating: 12+

"The Shamutanti Hills" introduces us to Sorcery! in all its delight. As with all typical adventure stories, you begin your quest in town, after waking up from a strange dream in which you have already finished your quest and obtained the Crown of Kings. But alas, it was just a dream! From there, you begin preparing yourself for your quest by getting your spell book, purchasing rations, and sparring with your weapon. The tutorials are seamlessly integrated here, with the option to try them out again if you didn't get it the first time – or if you just want to perfect your score.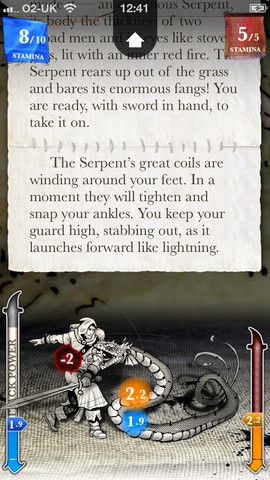 Melee fighting is based on timing and stamina, as well as gauging your enemy and what kind of attack he is about to perform. With a swipe of your finger, you can determine what type of attack to make, from full defense to full attack. If you go on full defense, you still take a point of damage if the enemy attacks. If you attack and he goes on the defense, you do minimal damage. But there is a perfect spot, where if you both attack, but your attack is higher, you can do maximum damage.
Spellcasting is based on which stars are in the night sky at any given moment. The night sky appears on the screen with three openings in the cloud, and you sort through the letters that appear in each to form the word of the spell that you want. For example, if you want to perform powerful offensive magic, you can try to spell "ZAP," which will – well – zap your enemy with lightning. Your spell book is just a tap away, with explanations on every spell, including what components you need for some of them.
Although the first chapter is short, I found myself going back to re-play the game over again to make different decisions and see what those would result in. In one playthrough, I avoided towns completely; in another, I made it a point to visit each and every one. There's plenty of enjoyment and exploration that can be found here,
Richly detailed, with beautiful illustrations and a compelling fantasy story, Steve Jackson's Sorcery! is a game you'll want to download to your iDevice. For just $4.99, the first chapter in the adventure awaits you, with the second chapter scheduled to be released soon.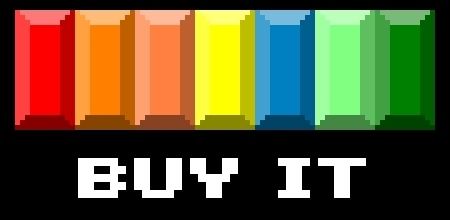 Review Disclosure: A review copy of Steve Jackson's Sorcery! was provided by Inkle Studios for the purposes of this review.