The Starship Damrey is the first game to be released in America from Level-5's Guild02 collection, their second set of 3DS collaborations with some of Japan's most acclaimed developers. You might remember such games as Liberation Maiden, Aero Porter, and Crimson Shroud from Guild01, and the quality hasn't wavered at all in this first installment of Guild02. Designed by Kazuya Asano and written by Takemaru Abiko, creators of text-based adventures in Japan, The Starship Damrey is something of a survival horror puzzle game, devilishly elusive and refreshingly difficult and frightening. Free of tutorials or any kind of explanation at all, the player is thrown into the story, forced to fight the claustrophobia of being trapped in a cold sleep chamber on the aforementioned starship, with only their wits to solve the mystery.
Platforms: 3DS
Publisher: Level-5
Developer: Level-5
Genre: Portable Space Horror Puzzler
Release Date: May 16, 2013
ESRB Rating: Teen

I hope you aren't afraid of enclosed spaces, because the first thing that happens is you wake up only to find yourself awoken from a cold sleep, in a chamber that you can't get out of. You're quickly cut off from trying to communicate with anyone on the ship. As you discover the menus, which I found through pressing every button I could until something happened, you find that you can control a robot. This robot becomes your eyes, ears, and hands on the ship, helping you to unlock the mystery.
What is the mystery, exactly? Well, for one thing, only one of your robots is actually functioning, out of eight. For another, as you motor around the ship, solving puzzles to open up more hallways, rooms, and floors, you begin to get used to the disquieting sight of your dead crewmates.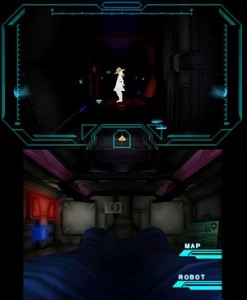 The puzzles themselves can be maddening. The game gives you no hints or explanations about anything, so you have to learn what you can and can't interact with. You can go over the entire area available to you once, twice, three times, and still not realize that there are things you haven't looked at yet. In the three dimensional space, there are so many options – and once you realize what it is you were supposed to do, it gives you that deep satisfaction of solving something. Of course, it can also make you feel like a slight dope for not seeing it before, but hey – you win some, you lose some.
There are space leeches throughout the starship, which make a distinct noise when you pass near one. These critters were stowaways, and the computer – pretty much your only friend, other than the robots – tells you to kill them. There are twenty total, and as you go along figuring out what to do next, it's easy to find and exterminate them.
What was unexpected was the detail and depth of the story. In what I thought would just be a simple downloadable game with puzzles, I found a narrative that surprised and pleased me with how attentive and frightening it was. The hours I spent within the game flew by, and even the times when I couldn't figure out what to do next didn't frustrate me but rather pushed me to solve the mystery. Even in a world with FAQs at your fingertips, I was so engrossed in the game that I didn't want to know the answers unless I figured them out for myself.
The Starship Damrey is a fantastic game. I don't mean "it's good for a downloadable game," either – that would belittle its quality. It stands on its own as a terrific game, and belongs in the library of anyone who isn't afraid to explore. The puzzles are challenging, the plot is rich, and you'll find yourself hoping that the Japanese duo that made this game will bring more of their works to our shores so we can play those as well.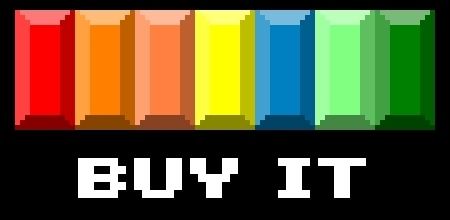 Review Disclosure: A review copy of The Starship Damrey was provided by Level-5 for the purposes of this review.