This year's PAX Prime was one of the best gaming experiences I've ever had. And even with four days, I still didn't get a chance to play everything – or even see everything. Lines were long, crowds were huge, and once I got started in on a good game, I wanted to play it as much as I could. We were originally only going to award ten games, but by Monday, we couldn't narrow it down, so we ended up adding in two more. Here is the PAXpocalypse List for PAX Prime 2013 – the twelve games we'd love to be stranded with if this little convention in Seattle was the end of the world. And they're in alphabetical order… because that's how it's done when you can't pick favorites.
Extraction
Platforms: PC
Release Date: TBA
Official Website: extraction.nexon.net/Teaser
Developed by Splash Damage and published by Nexon, this free-to-play first person shooter is one to look out for. You play as a team of mercenaries, choosing from several well-designed characters. I chose the only lady option, the Engineer, a good character for hacking missions. But she's not just a pretty face – her shotgun packs a punch, if you know how to use it. For those hard-to-reach enemies, she's also toting an automatic pistol. The gameplay is smooth, and the graphics are gorgeous. Our team was solid and took out our rivals, blocking them from blowing up our base… and then blowing theirs up in under 30 seconds when the positions switched. Wear a headset, keep everyone updated on your six, be as descriptive as possible when detailing where the enemy is, and enjoy the satisfaction of accomplishing goals as a team.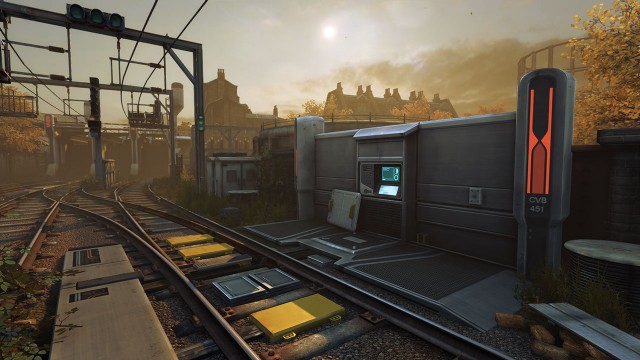 Galak-Z: The Dimensional
Platforms: PS4
Release Date: 2014
Official Website: galak-z.com
Galak-Z: The Dimensional will hit you right in your feel-good retro spot. The makers of Skulls of the Shogun, 17-Bit, are the developers behind this endeavor, putting to work their "gift for revitalizing classic genres with a next-gen twist." Set in space, with super smooth animations and gameplay, Galak-Z has you shooting your way through enemy after enemy. Choose your ship and watch your cartoon pilot in the corner as you deftly maneuver him through space, shooting off missiles by the dozen. The tough AI will keep you on your toes, with that perfect amount of pressure to keep you satisfied. It's got all the draw of a 2D 16-bit shooter with the look and feel of next gen. Watch this game – and this company.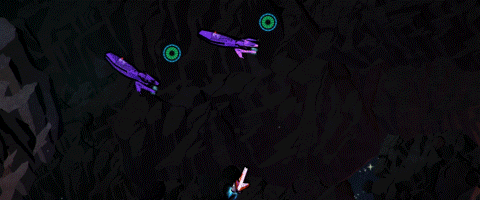 Incognita
Platforms: PC
Release Date: 2014
Official Website: incognitagame.com
Klei Entertainment's Incognita drew me in with its unique art style, thoughtful strategic choices, and deep gameplay – though it was impossible to do more than scratch the surface with such limited time. Described as "turn-based tactical espionage," the game's noir attitude and art style coupled with its interesting mechanics showcase its high potential. Fans of the original Fallout, Shadowrun, Monaco, and XCOM should keep a lookout for Incognita, which is currently being developed for PC, OSX, and Linux.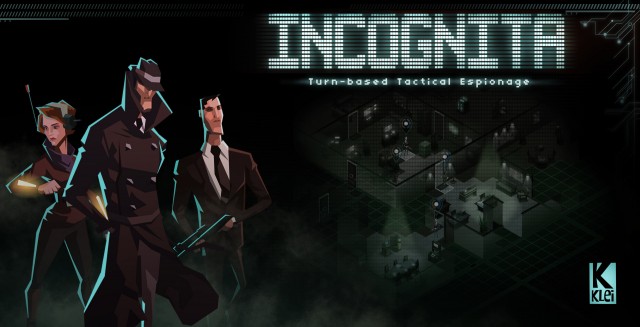 Lovers in a Dangerous Spacetime
Platforms: PC
Release Date: Fall 2013
Official Website: asteroidbase.com/dangerous-spacetime
Anthony Amato and I play a lot of games together, and we're always looking for new games that offer experiences we can share. Enter Asteroid Base's Lovers in a Dangerous Spacetime, a "two-player co-op micro-platformer set inside a pink Death Star locked in battle with hordes of space baddies." We ran around our little pink ship, moving the shield, firing the laser, killing horrible monsters, and saving planets full of adorable critters. Their pleas for help come in the form of tiny speech bubbles with their tiny distressed faces in them, and as you run for the navigation room and fly towards them, you get caught in the orbit of their planet, allowing you to spend your time firing your weapons instead of paying attention to where you're going (well, for the most part). This game will either have you screaming at your significant other, threatening to break up with them, or will cement your faith in your love and ability to communicate. When asked if they would have a version for people who are forever alone, the developers told us there will be an option where you can play with a pet who helps you out. I hope it's a cat lady.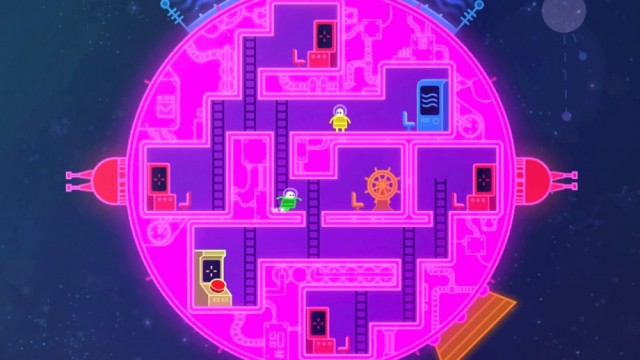 Orbitor/Deflector
Platforms: PC
Release Date: TBA
Official Website: evilaliens.co
Up on the sixth floor of the Washington State Convention Center, we visited the Academy of Interactive Entertainment booth, which had table after table of incredible independent games from Canberra, Australia. One developer, Evil Aliens, had two games that were so good we couldn't decide which one to give the award to – so we simply gave it to both. Orbitor is an impossibly gorgeous game in which you play as a spaceship that flies through the air, collecting energy by encircling vessels over and over with your tail and pulling it to snap them open. Speeding up and slowing down helps get it just right, and once you've got enough energy, you can power up the warp drive. The clouds alone make this game worth seeing – the art is breathtaking. Their other game, Deflector, reminded me of Shatter – if Shatter was a four-player versus game in which you shoot laser bullets at the other players. The incredibly smooth gameplay and stylish neon aesthetic made it hard to put down. I was mercilessly slaughtered by two ten-year-olds and still loved the game.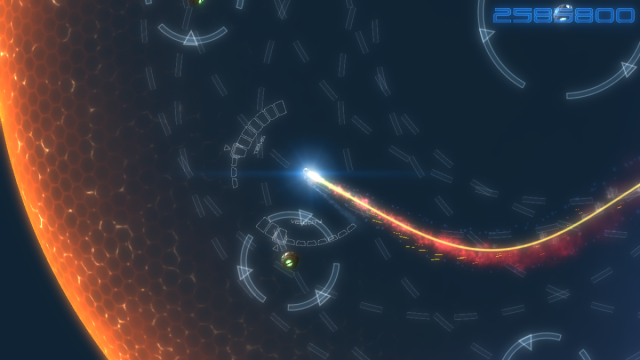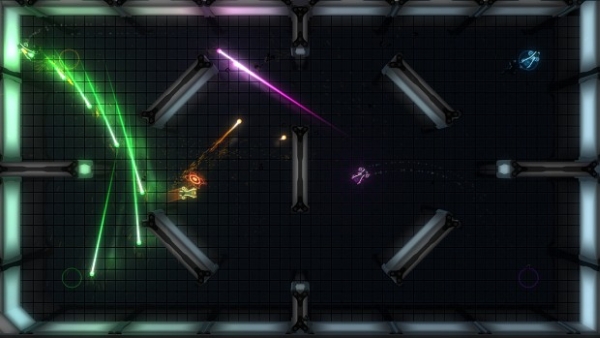 Pandamonium
Platforms: PC
Release Date: Available Now
Official Website: wildgrassgames.com/games/pandamonium
In this indie game by Wildgrass Games, you play as one of four armadillos who are desperately trying to escape a rabid panda. Luckily, you can trap the other armadillos by digging into the earth, creating a wall and hopefully giving the panda a meal so you survive another few moments. The last one standing wins! I guess the panda is full after three armadillos. Wildgrass Games was at PAX with the Academy of Interactive Entertainment in Canberra, Australia. As if it's not impressive enough, Pandamonium is a game that was made during their 48-hour game jam this past August. These guys obviously have a lot of skill and their studio is one to keep an eye on.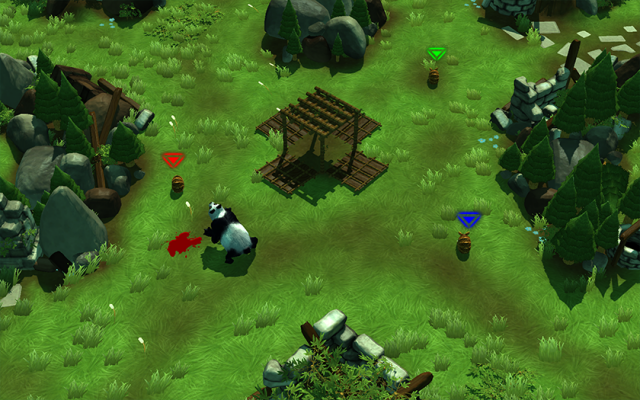 PixelJunk Inc.
Platforms: PC
Release Date: Fall 2013
Official Website: pixeljunk.jp/inc
Q-Games is up to something, and that something is PixelJunk Inc., a story of "Corporate Corruption and Conspiracy Interstellar." In this PC game, you collect ingredients for soup, build a factory to make said soup, blast the soup out into space for delivery, and fight monsters – at first with your bare hands, but later, with complicated turrets you set up around your factory. So I guess PixelJunk Inc. is kind of like Terraria, but with tower defense, soup economics, a buzzsaw, and a pogo stick. The only resource that isn't limited here is fun.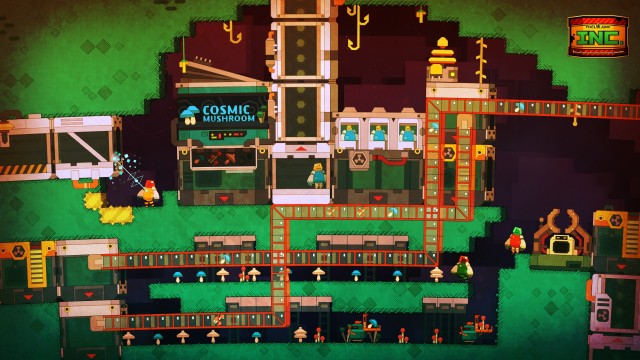 Samurai Gunn
Platforms: PC, PS4, Vita
Release Date: Holiday 2013 (PC), 2014 (PS4, Vita)
Official Website: maxistentialism.com/samuraigunn
As many of you already know, I've had a really unhealthy obsession with TowerFall the last few months (more on that later). It's the first four-player versus game I can say I've fallen in love with. As a result, some games – like Samurai Gunn – were impossible for me to resist at PAX. With a prominent spot in the Inde Megabooth, Samurai Gunn – designed by Teknopants and published by Maxistentialism – had a small crowd every time I walked past. When I finally got my hands on it, I got to experience the "lightning-fast Bushido brawler" for myself. You get to play as one of four samurai, each of which has a sword and a gun, with three bullets every time you spawn. The maps are part of the challenge, my favorite being the Forest in which you must slash your way through the leaves to get to your opponents. Timing, fast reflexes, and patience are crucial in defeating your enemies, with each kill stylistically highlighted like an old-school samurai film. The first samurai to ten kills wins.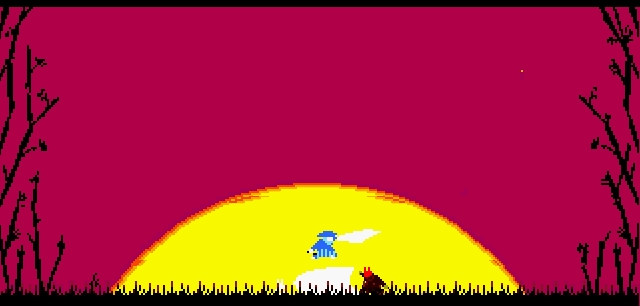 Scale
Platforms: PC
Release Date: TBA
Official Website: steveswink.com/scale
When I first saw this game in 2012, I was thrilled at the gameplay. Your gun can scale things and make them either bigger or smaller, allowing you to solve puzzles in an elegant fashion. In the demo I saw, you could make a dollhouse bigger, walk inside, go up to the second floor, and hop out the window to get over your obstacle. In the demo I played at Steve Swink's corner in the Indie Megabooth, I gasped as I stood on a small, tilted wall, shot it to scale it up, and launched myself across the map, laughing as I fell to my demise. (Whoops!) The game is fun and funny – the gun details a prominent "NOPE" if your reticle is on an item that can't be scaled – and it feels smooth and ready to be in my living room. I'm excited to see what else Swink and his team have up their sleeves.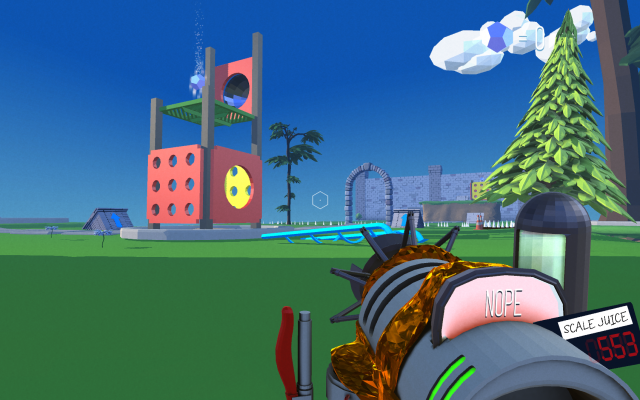 Shadowrun: Crossfire
Platforms: Tabletop
Release Date: 2013
Official Website: shadowruntabletop.com/2013/08/crossfire-demo-box
The tabletop game presence at PAX Prime was scattered and incoherent, but we were able to get our hands on at least a few demos. The one we liked the best was being run by Catalyst Game Labs: Shadowrun: Crossfire, a frenetically fast cooperative deck building game for Runners. Players work together to use their resources and geek (that's "kill," for those of you not in the know) as many baddies as possible. Each kill gains you Nuyen, which you can spend in the black market for upgrades – that go right into your hand to be played on your next turn. Work together to geek some deckers, upgrade your equipment, and then buzz turbo to Run another day. But what's most intriguing about this game is the potential for leveling your characters and having an actual deck-building campaign. This is a must-play for Shadowrun fans, but will also appeal to those as into deck builders as we are.

TowerFall
Platforms: Ouya, PC
Release Date: Available Now (Ouya), Fall 2013 (PC)
Official Website: towerfall-game.com
Matt Thorson's TowerFall took PAX Prime by storm. Every single time we came close to the PAX 10 area, TowerFall was constantly surrounded by a group of happy people, totally entranced. (The most exciting moment was when our friend, Greg Lobanov, took on Matt himself in front of a huge, cheering crowd.) But what exactly IS TowerFall? It's a four-player versus game of intensely competitive archery. The retro graphics defy the top-notch physics, giving the game a depth of strategy and tactics you might not expect at first. If an arrow misses its mark, it gets lodged in the wall, where anyone can pick it up. Kill your opponents with your swift archery skills or stomp their heads Mario-style. Make sure you time your dodges, as the cooldown can spell your doom. I love this game and I want an Ouya just so I can play it, but productivity would be at an all-time low.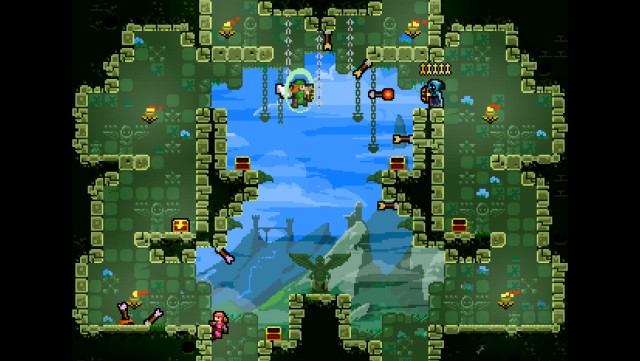 We Are Doomed
Platforms: PC
Release Date: TBA
Official Website: caffeinemonstersoftware.com
On Sunday night, IGDA Seattle presented the SIX, the Seattle Indies Expo. There were no long lines, just table after table of wonderful independent games. And it was there that I found utter glee in Mobeen Fikree's We Are Doomed. This stylistical and addictive twin-stick shooter pits you against space monsters that multiply as you progress, eventually spawning jerks that shoot lasers at you. Your own laser – which is more like a flamethrowers than a laser – elicited so much joy in me that I was rendered speechless for the first few levels. There's also a bomb, which I didn't even know about for the first ten minutes or so, and which was even more satisfying. The game marries all the best things about Super Stardust HD, Ridiculous Fishing, and Super Hexagon, and I played it until the expo closed. While not officially part of PAX, Mo deserved the award, and I feel good knowing that he'll soon be famous.