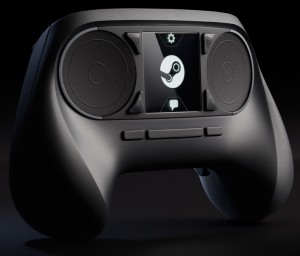 Valve's final announcement of the week (following on the heels of SteamOS and the Steam Machines living room PC) is a brand new controller they've dubbed the "Steam Controller."
The Steam Controller will work with any version of Steam (including Windows and Mac) and won't be limited to Steam Machines-branded PCs or other SteamOS devices. The controller will launch in 2014, and just like their Steam Machines prototype, Valve plans to offer 300 fans the chance to beta test the new controller. But why does it look so weird?
Instead of two analog sticks, the Steam Controller features two massive trackpads that feel more like a desktop mouse than an analog stick. Each trackpad is also clickable. The four face buttons have been shifted to the center of the controller where they encircle a large touchpad, which is also clickable. Four shoulder buttons also sit atop the controller in their standard spot. And finally, two buttons are nestled in the back of the controller next to the grips.
It's likely that console gamers will be confused by the Steam Controller, but Valve believes it'll bring PC games to the living room for the first time: "Whole genres of games that were previously only playable with a keyboard and mouse are now accessible from the sofa. RTS games. Casual, cursor-driven games. Strategy games. 4X space exploration games. A huge variety of indie games. Simulation titles. And of course, Euro Truck Simulator 2."
Who knows if Valve can take over the living room, but they've definitely presented some interesting ideas this week.