Back at PAX Prime 2013, I took a side trip to the Seattle Indies Expo, which was held the same weekend, and it was full of some great indie games. As I was stumbling around, excited to be in a more low-key environment, I came upon a bright, neon-colored game, manned by two gentlemen. One of them handed me a controller, and the other started to pitch the game to me. But before he could get very far, I discovered my laser, and the look on my face and the noise that escaped me indicated that I got it. The man pitching the game was Mobeen Fikree, the madman behind We Are Doomed. After playing it for the rest of the night, I plastered the screen with a "PAXpocalypse" tag, because despite the fact that he wasn't actually on the show floor, Fikree's game was, by far, one of the best games I played that entire weekend.
Platforms: PC
Publisher: Caffeine Monster Software
Developer: Caffeine Monster Software
Genre: Neon-Neon Stick-Stick Shooter
Release Date: April 9, 2014
ESRB Rating: Not Rated

We try not to repeat ourselves with our PAXpocalypse selections, so you won't find We Are Doomed in the PAX East 2014 edition, but I can admit it was still one of the best games I played on the show floor. In fact, it was the first game I played when I got there, making a beeline on Friday morning to the Indie Minibooth (part of the Indie Megabooth), where Caffeine Monster Software was in a great spot right on the corner and directly across from Sportsfriends.
The game was everything I remembered, but much more. At its heart, We Are Doomed is your typical twin-stick shooter, and you use your ridiculous laser to destroy enemies on the screen. Once you kill them all, a new level loads, and you continue to use your laser to create a swath of destruction. Collecting energy cubes builds up your Superbeam, which is an even more ridiculous laser that even obliterates the previously indestructible asteroids. All of this is set in a vibrant, crazy space-world, manned by tons of monsters, including ones that look like jelly fish (those are my favorites).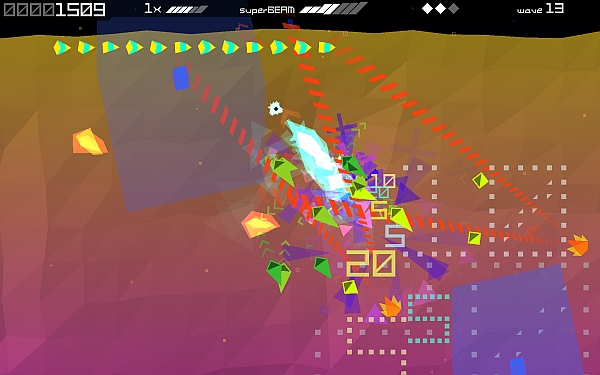 Those of you who love the type of game that has a quick restart, letting you try to rack up points and push the limit to see how far you can go, will absolutely adore We Are Doomed. That feeling of "just one more time" that goes from one game to suddenly realizing it's 2:00 AM, is absolutely what you'll get here. And for just $4, you're certainly getting your money's worth. Oh, I didn't mention it's already available for sale? Well, it is, and you should go buy it.
We Are Doomed is a game from a genre we've all been steeped in since childhood. But Fikree has given it an electric-neon coat of paint, built exciting and challenging levels, and successfully tapped into that addictive quality of putting in another quarter… without hurting your wallet. Add to that some great sound design and a terrific soundtrack, and you've got a game that needs to be on your computer. If you're anything like me, you'll be so full of glee by the end of the first level that you'll spend the rest of the day chasing that high and laughing giddily every time you beat your high score.