I thought the Geometry Wars series had gone dark forever after Bizarre Creations closed its doors in 2011. It was a surprising end for the developer that had created Geometry Wars: Retro Evolved, a simple twin-stick shooter that many people consider the first great Xbox 360 game. Retro Evolved was followed by a well-received sequel in 2008, which lead Bizarre's Craig Howard to admit to the MTV Multiplayer Blog that a third game in the series was already in the works.
Howard moved on after Bizarre's closure and he's now the Creative Director at Lucid Games, which teamed up with Activision's Sierra Games imprint to finally release Geometry Wars 3: Dimensions last year. The game was an instant smash hit was fans of the series, as it expanded the playing field into the third dimension and added a wide variety of new weapons and modes to the franchise's standard formula. But rather than jump right into Geometry Wars 4, Lucid doubled the size of Dimensions earlier this year with the Evolved expansion. The developer also wanted to take Geometry Wars 3 on the road with portable ports for iOS, Android, and the Vita.
I recently got the chance to talk with Howard about Geometry Wars 3: Dimensions, which will be available for the Vita beginning today, and Lucid's journey to bring the franchise back.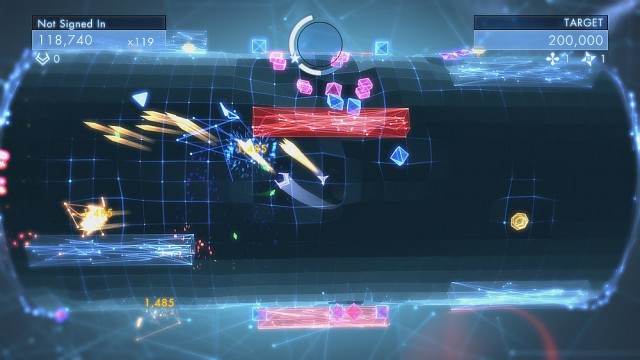 John Scalzo, Warp Zoned Editor-In-Chief: Geometry Wars has been gone a long time. So who approached who for a new entry in the series? Did Activision reach out to you and say, "We want Geometry Wars 3"? Or did Lucid pitch Activision on a new entry in the series?
Craig Howard, Creative Director at Lucid Games: It's been something that both sides have been considering for a while. We knew each other from way back even before Activision acquired Bizarre so we had always kept in touch. Some of our guys who had worked on Geometry Wars: Retro Evolved 2 had a lot of little ideas coming out of that, but we just worked on isolated parts and concepts over the years until we felt that we had something that would be a worthy addition to the Geometry Wars legacy.
WZ – John: Each new Geometry Wars game seems to become the standard for all twin-stick shooters that follow. Is that kind of pressure scary when designing a new entry in the series?
Howard: Yep, when you make any sequel to a game that people are passionate about you will get some people who have their own mapped out ideas and concepts on where they want the game to go. Those of us who worked on Retro Evolved 2 experienced it with that title, so we expected it again with Dimensions. In these situations though, as long as you are as passionate about the game as these superfans then you have to believe that your ideas and concepts will win through. I'm pleased to see that this has happened again, and many of the old fans have really embraced the new game and the exciting new modes and content.
WZ – John: So you weren't worried the three-dimensional playing fields would change the game too much?
Howard: We have been thinking about this for a while. The difficult thing was to ensure that we could keep the pace and movement of the game the same as the previous ones to ensure it felt true. We worked on prototypes for some time before we were happy with them. Only then did we even contemplate doing a new version of the game with 3D maps.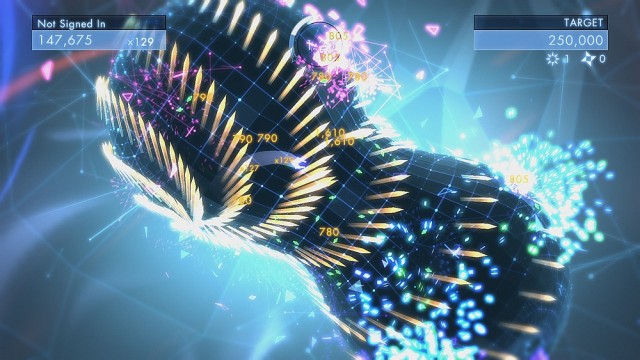 WZ – John: What about the Drones, Supers, and Super States? Did you think they could "break" the simplicity of the Geometry Wars concept?
Howard: I am really happy with the Super States. They compliment the core second-to-second gameplay well, and I think they are a much better solution to changing the player's primary weapon. The Drones and Supers add a layer of light complexity to the gameplay, but this tactical layer adds more of a long tail to the high score battling with friends.
WZ – John: Were there any features you wanted to include in Geometry Wars 3 that didn't make it into the game?
Howard: There are some cool things that we wanted to add… I do not want to say what they are now as I hope we get to continue adding more to the game.
WZ – John: Is that what pushed the team to create the free Evolved update?
Howard: Geometry Wars 3 has been a labor of love for us, and despite being really happy with the original game we had some great things that we wanted to fully develop and get out to the players engaged in our game.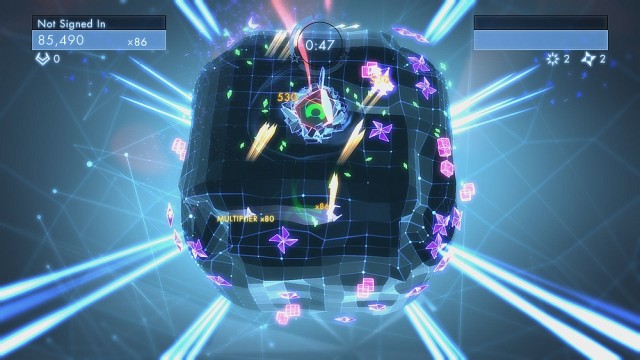 WZ – John: Was there any pressure from Sierra to release the Evolved update as paid DLC?
Howard: Sierra has been a great partner for the game, there was no pressure from them to make it paid.
WZ – John: The iOS/Android version of Geometry Wars 3 hasn't received the Evolved update yet [Ed Note: It launched on mobile devices a few hours ago]. What other compromises did the team have to make to fit Geometry Wars 3 on mobile devices?
Howard: We built the game with our own multi-format engine. There were some compromises that we had to make, but the advances in mobile technology are amazing thanks to the short life cycles that the average handset now has. These pokey [Ed. Note: In the UK, "pokey" means "fast"] new mobile chipsets, combined with the technical prowess of our code team has ensured that we have a really close representation of the game on the iOS and Android devices.
WZ – John: In Lucid's short life, you've made several puzzle games, a mobile racer, a puppy sim, and Geometry Wars 3. What's next?
Howard: In keeping with our varied output we have just announced a casual game called Happy Happy Donuts for mobile. Our core console/PC teams are working on a very exciting action game at the moment which will really appeal to a lot of our arcade action fan base. I hope we can announce more details of that game very soon as it's really exciting.
WZ – John: That does sound exciting. Thanks so much, Craig, and congratulations on the Vita launch.