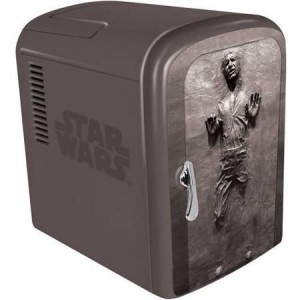 "They've encased him in Carbonite. He should be quite well protected. If he survived the freezing process, that is."
Star Wars: Battlefront is exactly two months away, and I'm sure that more than a few people will spend a number of all-nighters partaking in its multiplayer battles. But how are you planning to stay alert after Darth Vader cuts you down with his Lightsaber at three in the morning? Are you going to march down to your kitchen for a store brand cola like some scruffy-looking nerf herder? Or are you going to reach over and pull out a genuine can of Coca-Cola from this beautiful Han Solo Mini Fridge? Don't you love it? What am I saying… I know you love it.
The Mini Fridge will be available at Walmart exclusively as part of their Star Wars: Battlefront Deluxe Edition for the PS4 or Xbox One. It's priced at $129.98 and can hold six cans of soda. For some reason, the Mini Fridge also includes a warming function… so insert your own "I'll bet Han wishes his Carbonite fridge had a warming function" joke right here.
Star Wars: Battlefront is in development at DICE LA and it'll be released on November 17. And if the game doesn't interest you for some reason, but you're now in the market for a "Han Solo Frozen in Carbonite" fridge, ThinkGeek currently offers one with an 18-can capacity for $149.99.