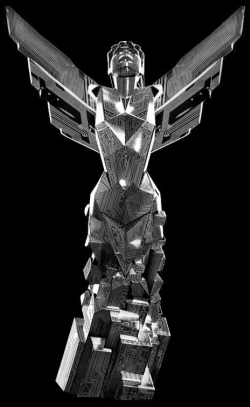 After racking up more nominations than any other title, The Witcher 3: Wild Hunt easily waltzed away with the "Game of the Year" prize at the 2015 Game Awards. Held last night in Los Angeles, the game also secured the "Best Role Playing Game" statue during the awards show, as well as "Developer of the Year" honors for CD Projekt Red.
While The Witcher 3 is known for its size, two smaller games also managed to win multiple awards last night. Sam Barlow's Her Story took home the Game Award for "Best Narrative" and "Best Performance" for actress Viva Seifert. Meanwhile, Rocket League reached its goal by winning for both "Best Independent Game" and "Best Sports/Racing Game."
Nintendo had a good Game Awards as Splatoon took home a pair of awards for its unique take on the multiplayer shooter (specifically, "Best Multiplayer" and "Best Shooter"). Nintendo also won "Best Family Game" for Super Mario Maker.
Many other titles took home a trophy last night including Mortal Kombat X ("Best Fighting Game"), Life Is Strange ("Games For Change Award"), Ori and the Blind Forest ("Best Art Direction"), and Lara Croft Go ("Best Mobile/Handheld Game"). And Hideo Kojima's Metal Gear Solid V: The Phantom Pain won "Best Action/Adventure Game" and "Best Score/Soundtrack," though host Geoff Keighley explained that he wasn't able to accept either award as Konami had barred him from the event.
While that turn of events was a bit shocking (and frankly, rather petty), the biggest surprise may have been that Bethesda's Fallout 4 was completely shut out at the 2015 Game Awards.
A complete rundown of this year's winners can be found after the break.
Jury Voted

Game of the Year

The Witcher 3: Wild Hunt (CD Projekt Red, Warner Bros. Interactive Entertainment)

Developer of the Year

Best Independent Game

Best Mobile/Handheld Game

Lara Croft Go (Square Enix Montreal, Square Enix)

Best Narrative

Best Performance

Best Art Direction

Ori and the Blind Forest (Moon Studios, Microsoft Studios)

Best Score/Soundtrack

Metal Gear Solid V: The Phantom Pain (Ludvig Forssell, Justin Burnett, Daniel James, Kojima Productions)

Best Shooter

Splatoon (Nintendo EAD Group No. 2, Nintendo)

Best Action/Adventure Game

Metal Gear Solid V: The Phantom Pain (Kojima Productions, Konami)

Best Role-Playing Game

The Witcher 3: Wild Hunt (CD Projekt Red, Warner Bros. Interactive Entertainment)

Best Fighting Game

Mortal Kombat X (NetherRealm Studios, Warner Bros. Interactive Entertainment)

Best Family Game

Super Mario Maker (Nintendo EAD Group No. 4, Nintendo)

Best Sports/Racing Game

Best Multiplayer

Splatoon (Nintendo EAD Group No. 2, Nintendo)

Games For Change

Life Is Strange (Dontnod Entertainment, Square Enix)

Fan's Choice

Most Anticipated Game

No Man's Sky (Hello Games)

eSports Player of the Year

Kenny "KennyS" Schrub (Counter-Strike: Global Offensive, Team EnVyUs)

eSports Team of the Year

eSports Game of the Year

Counter-Strike: Global Offensive (Valve)

Trending Gamer

Best Fan Creation

Portal Stories: Mel (Prism Studios)