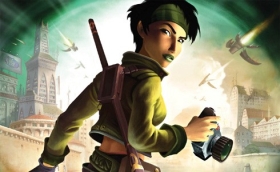 Many people already suspected that Beyond Good & Evil 2 might drop the numeral and go the prequel route after Director Michel Ancel uploaded an image from the recently-announced game of Uncle Pey'j as a young piglet. A new rumor report from Let's Play Video Games seems to confirm that suspicion and a number of other details about the long-in-the-works followup.
Citing an anonymous source "familiar with the negotiations on the project," Beyond Good & Evil 2 will actually be a "standalone reboot" that expands on the cliffhanger ending from the first game while also delving deeper into the backstories of Pey'j and main character Jade:
According to our source, the currently planned direction for the game is that it will partially retell Jade's origin tale from Beyond Good & Evil, flesh out Peyj's backstory, then continue to extrapolate on the ending of the original game. The intention is that players who have not played the original will be able to jump into the new game, which will feature a subtitle rather than a number at the end of its title, and understand both who Jade is and what drives Pey'j. It also seeks to provide closure to fans of the original wondering what the cliffhanger at the end meant for the series' ongoing plot.
Several other tipsters have also informed Let's Play Video Games that Ubisoft will release Beyond Good & Evil 2 (or whatever it ends up being called) exclusively for Nintendo's NX console in Summer 2018. A new trailer is supposedly being prepared to deliver the news, and it'll likely make its public debut alongside Nintendo's unveiling of the NX.
But… all together now… we still have no idea when Nintendo will announce its plan for the NX.