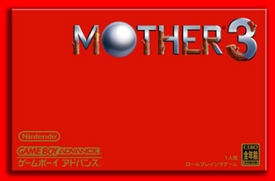 It's the question that has plagued Nintendo fans for more than a decade now… when will Mother 3 (often known as Earthbound 2 on this side of the Pacific) be released in North America? Originally released for the Game Boy Advance in Japan in 2006, we first started hearing rumors last year that a North American release for the game on the Wii U was imminent. But there's been nary a peep about Mother 3 from Nintendo since then.
Now, in the first days of 2017, the Mother 3 rumors have surfaced once more.
Laura Kate Dale (of Let's Play Video Games) is reporting that the elusive RPG will be available for the Nintendo Switch in Spring 2017. According to Dale's sources, Mother 3 was originally on track for a Wii U release in 2016 (it was "done and ready to go"), but Nintendo pulled the plug to give fans one more reason to make the switch to the Switch this year. Her sources also confirmed that Mother 3's North American debut will receive a new English translation, and it'll likely be released directly after Nintendo's E3 Press Conference.
Nintendo will fully unveil the Switch on January 12, and my fingers are crossed that Mother 3 will be part of the presentation.