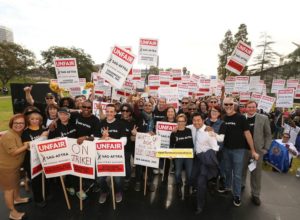 With the continuing strike between the Screen Actors Guild‐American Federation of Television and Radio Artists (SAG-AFTRA) and a cabal of 11 video game companies locked in a stalemate, the union held a rally in Los Angeles to help support the striking voice actors.
The strike, which has been active since October 21, is an ongoing dispute about working conditions and salary for motion capture and voice artists when working on video games. However, there has been little movement in negotiations on the matter, according to SAG-AFTRA's Chief Contracts Officer, Ray Rodriguez, who said the purpose of the rally was "to get people refocused that the strike is happening."
In addition to demanding better safety conditions for its members, SAG-AFTRA is seeking additional bonus payments for actors that work on a game that sells well. The union has suggested an extra payment for games selling two million copies, with additional bonuses up to eight million copies sold.
However, lawyers for the 11 companies, which include Activision Blizzard, Electronic Arts, Take Two Interactive, Insomniac Games, Warner Bros., and Disney, do not see room for compromise. Scott Witlin, their Chief Negotiator, released a statement saying, "We remain disappointed that SAG-AFTRA leadership remains focused on outmoded ideas about how compensation is structured rather than the real dollars and cents that the video game companies put on the table."
The contingent of companies, who have seen their premises picketed over the last few months, have proposed an immediate 9% wage increase, instead of a 3% annual increase for the next three years, which is what SAG-AFTRA is asking for on top of the bonus. The video game companies are also offering additional payments, which could be as high as $950 per game, dependent on the length of time an actor works on a specific title.
SAG-AFTRA Interactive Negotiating Committee Chair Keythe Farley said, "I can't believe we're still fighting for this contract two years later. I thought we'd be done by lunch on day one. I figured we were all eager to update the substandard, 20-year-old contract that we've been operating under and start fresh with a modern, industry-standard agreement that protects, and fairly compensates, performers working on today's video games. The one thing that keeps me going is our members' dedication and commitment to a fair contract. It's the same dedication they bring to their performances, so I guess it's no surprise, really."
The SAG-AFTRA rally, which began at SAG-AFTRA Plaza and stretched to the nearby La Brea Tar Pits, attracted 500 union members and was joined by the aptly named David Ryu, an LA City Councilman. He offered strong words of support for the crowd, saying video game companies "need to pay their fair share" and telling the SAG-AFTRA protesters "you should not give in."