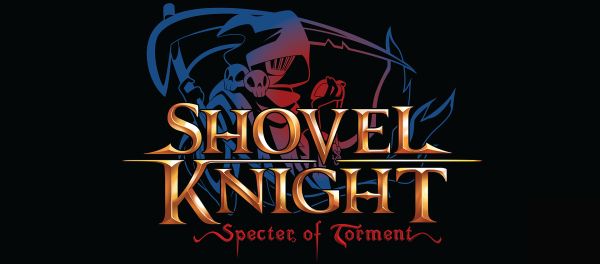 Yacht Club Games has built a strong reputation over the years for their ability to deconstruct, modernize, and regenerate the side-scrolling platformer. Using Ducktales and Mega Man as a template, the original Shovel Knight was a game that honored the past, while only being able to exist in the present. Meanwhile, its first expansion, Plague of Shadows, brought back the gadget platformer in a unique adventure that felt more like a true sequel than an add-on.
The developer must have had the same thought, as Shovel Knight: Specter of Torment is the first game in the franchise's rapidly-growing expanded universe to be available as a standalone game as well as a free expansion. Widening their playing field has also lead Yacht Club to tackle the cinematic storytelling and swordplay found in the NES era's ninja platformers, best exemplified by Ninja Gaiden.
Platforms: 3DS, Fire TV, PC, PS3, PS4, Switch (Version Played), Vita, Wii U, Xbox One
Publisher: Yacht Club Games
Developer: Yacht Club Games
Genre: Side-Scrolling Reaper Simulator
Release Date: March 3, 2017 (Switch), April 2017 (3DS, PC, PS3, PS4, Vita, Wii U, Xbox One)
ESRB Rating: Everyone
Just as they did for Plague of Shadows, Yacht Club pushed Shovel Knight to the background in Specter of Torment to follow one of the villainous Knights from The Enchantress's Order of No Quarter. But instead of telling a tale that operates on the fringes of Shovel Knight's quest for justice, Specter of Torment goes back to the very beginning, and reveals how Specter Knight recruited the Knights to The Order.
Like Ninja Gaiden's Ryu Hayabusa, Specter Knight's weapon of choice is a long blade. But rather than settle for a simple sword, the character carries a scythe under his reaper's robe. Specter Knight can cut down enemies with several speedy swipes, or he can close the gap quickly (and reach higher platforms) with the powerful Dash Slash. The character is also adept at wall running, and a collection of Curios bestow extra powers such as a sickle boomerang or a flame barrier.
These elements all come together to create a fast-paced platformer that feels as different from Plague of Shadows as that game did from the original Shovel Knight. And I'm not sure how Yacht Club pulled it off, but some subtle changes in the presentation and gameplay help make the levels and locations in Specter of Torment feel brand new, even though players will (literally) tread the same ground they did in Shovel Knight and Plague of Shadows.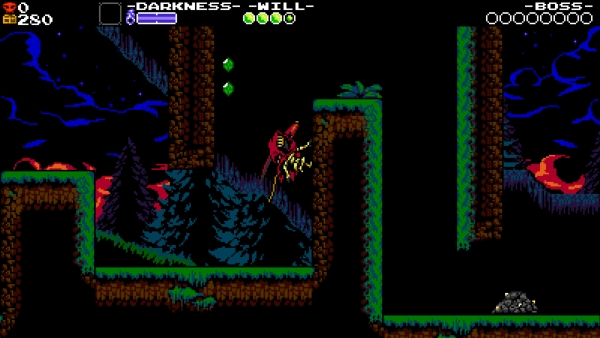 As they've proven time and again, the developers Yacht Club can take a genre popular during the NES era and distill it down to the parts that work best in 2017. Just as an example, Specter of Torment is difficult, but it's not unforgivingly cruel like Ninja Gaiden could be. Most of the credit for that can probably go to the game's excellent controls, which are accurate and responsive, and make controlling a pixelated reaper feel like second nature.
But I hope players who choose to tackle the Challenge Mode and New Game Plus aren't prone to anger. Both modes are just ridiculously hard… though never frustrating.
One of the other opportunities that Yacht Club embraced with Specter of Torment was the chance to expand the franchise's story into a saga of epic proportions. Ninja Gaiden is well known as one of the first games to incorporate cinematic story panels between levels, and Specter of Knight uses this style to tell its own narrative of tragedy and loss. And owing to its dual nature as a standalone jumping-in-point for new players and an expansion to a larger universe, the game has a storyline that works on its own, but is also filled with easter eggs and callbacks to the previous two games. That's a neat trick.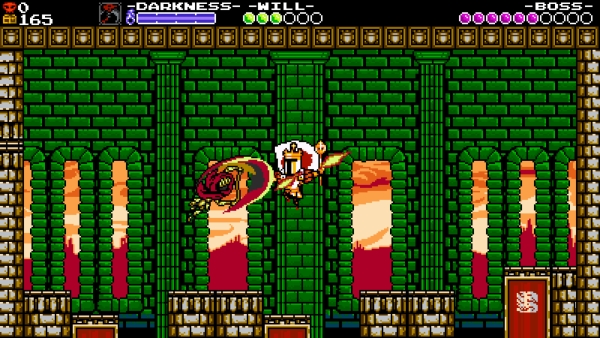 In addition to the main storyline, Specter of Torment features a parallel one involving two adventurers, Donovan and Luan, and what happened during their quest for the Amulet that allowed The Enchantress to possess Shield Knight. This kind of worldbuilding wasn't common in the NES era, but Yacht Club has made it an integral part of the Shovel Knight experience, and I love that these vignettes are rendered on screen in a soupy haze that can only be described as "Game Boy Green."
When it comes to launch games for the Nintendo Switch, I can think of no higher praise for Shovel Knight: Specter of Torment than by admitting that it consistently pulled me away from The Legend of Zelda: Breath of the Wild after I purchased the console. It is a tremendous platformer that'll be appreciated by fans of the franchise, as well as players looking for a new experience akin to the original Ninja Gaiden trilogy. Being able to take it anywhere with the Switch's big and beautiful screen is just a bonus.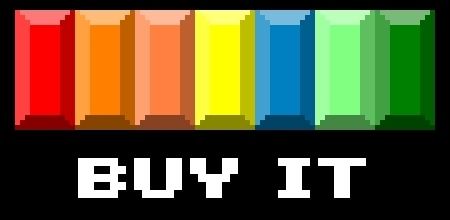 Review Disclosure: A review copy of Shovel Knight: Specter of Torment was provided by Yacht Club Games for the purposes of this review.