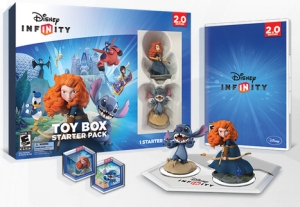 Disney Interactive's big Marvel push begins next month with the release of Disney Infinity: Marvel Super Heroes. The Starter Pack will include three Marvel figures (Iron Man, Thor, and Black Widow) as well as the promise of many more in the future. But what if you don't like Marvel characters and are just looking to explore the expanded Toy Box mode found in the game that is also known as Disney Infinity 2.0 Edition? Well, you're in luck, Disney also plans to release a special Toy Box Starter Pack on November 4.
Set to be available for the PS3, PS4, Wii U, Xbox 360, and Xbox One, the Toy Box Starter Pack will come complete with two Toy Box Game Discs, a 2.0 Edition Base, two figures (Brave's Merida and Stitch from Lilo & Stitch), and the same Disney Infinity: Marvel Super Heroes game disc as the regular Starter Pack. Looks like you can't completely get away from the Marvel content.
"Disney Infinity fans spend the majority of their time inside the Toy Box mode, and with our new Toy Box Starter Pack, we're giving Disney fans an alternative entry point to the Disney Infinity sequel," said John Blackburn, Vice President and General Manager of Avalanche Software. "We've completely re-tooled the Toy Box for this year's version of Disney Infinity, and we want every Disney fan to experience it using their favorite Disney or Marvel characters."
The Toy Box Starter Pack will be priced at $59.99, which is slightly cheaper than the $74.99 price tag that has been attached to the Marvel Super Heroes Starter Pack.