Most Recent:
3DS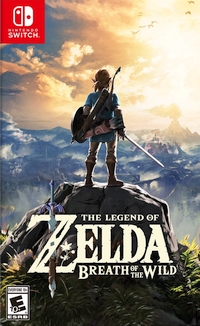 Nintendo was definitely the big winner at last night's DICE Awards presentation. The Academy of Interactive Arts and Sciences awarded 11 victories to the consolemaker, including "Game of the Year" for The Legend of Zelda: Breath of the Wild. Link's newest adventure also received accolades for "Adventure Game of the Year," "Game Design," "Game Direction."
Studio MDHR's Cuphead received several awards for its outstanding sound and visual at the 2018 DICE Awards, including "Original Music Composition," "Animation," and "Art Direction."
Developers for several other games strode to the stage to collect multiple awards during last night's ceremony. That list includes Guerrilla's Horizon: Zero Dawn ("Story" and "Technical Achievement"), PUBG Corporation's PlayerUnknown's Battlegrounds ("Action Game of the Year" and "Online Gameplay"), Nintendo's Snipperclips: Cut It Out Together ("Family Game of the Year" and the "D.I.C.E. Sprite Award"), and Oculus's Lone Echo/Echo Arena ("Immersive Reality Technical Achievement" and "Immersive Reality Game of the Year").
Congratulations to everyone who won big at the 2018 DICE Awards. A complete list of all the winners can be found after the break. (more…)