Most Recent:
Vita

The Spring and Summer months are currently less dense with new releases than the first three months of the year, but that should change fairly soon, especially since publishers have staked a claim to every week from the beginning of April to the end of June with at least one big new release dropping every seven days.
Are you ready? Because here… we… go… (more…)
Posted in

3DS, Features, Mobile, NX, PC, PS3, PS4, Top Story, Vita, Wii U, Xbox 360, Xbox One
Tagged

Ark: Survival Evolved, Battleborn, Bravely Second: End Layer, Dark Souls III, Deus Ex: Mankind Divided, Dishonored 2, Doom 4, Dragon Quest VII, Dragon Quest VIII: Journey of the Cursed King, Fable Legends, FIFA 17, Gears of War, Homefront: The Revolution, Hyper Light Drifter, Lego Star Wars: The Force Awakens, Madden NFL 17, Mighty No. 9, Mirror's Edge: Catalyst, NBA 2K17, NBA Live 17, NHL 17, No Man's Sky, Odin Sphere: Leifthrasir, Overwatch, Pikmin 4, Quantum Break, Ratchet & Clank, Star Fox Wii U, Teenage Mutant Ninja Turtles: Mutants in Manhattan, The Legend of Zelda Wii U, Umbrella Corps, Uncharted 4: A Thief's End, World of Warcraft, Zero Escape Volume 3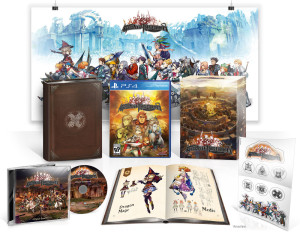 NIS America has announced their upcoming tactical RPG, Grand Kingdom, will be released for the PS4 and Vita on June 21.
The "Launch Edition" of Grand Kingdom, available on both the PS4 and Vita, will include a 32-page softcover art book, a soundtrack CD, and a collectible box. But the PS4-exclusive "Limited Edition" looks to be much more elaborate:
Grand Kingdom Limited Edition Contents

Grand Kingdom Game Disc
128-page Faux Leather Hardcover Art Book
Soundtrack CD
Parade Character Poster
Decal Sticker Sheet
Limited Edition Collector's Box
Grand Kingdom will be co-developed by Spike Chunsoft and newcomer Monochrome. The tactical RPG will be the first game from the Japanese development studio, which was founded by former Vanillaware designer Tomohiko Deguchi (Muramasa: The Demon Blade).
Punxsutawney Phil didn't see his shadow yesterday, so that means Spring is right around the corner. But first, let's talk about the first PlayStation Store update for February…
Leading the way this week is Gravity Rush Remastered for the PS4. Originally released for the Vita in 2012, the underappreciated game found a dedicated fanbase, which was enough to get Sony to greenlight a sequel and this Remastered re-release. So what's Gravity Rush all about? Well, players take control of Kat, "a strong-willed girl with gravity-altering abilities" who has to save her floating home.
Also available this week is Crypt of the NecroDancer (PS4 + Vita Cross-Buy), a rhythm-based roguelike where players "move to the music and deliver beatdowns to the beat!" A second off-kilter RPG will be released this week for the PS4 as Idea Factory is moving their Neptunia series to the Sony's latest console with Megadimension Neptunia VII.
Finally this week, the creators of OlliOlli (and its sequel) are back with Not A Hero, a pixelated platform shooter that looks more than a little deranged.
More information on all of these games (and a few other new releases) can be found after the break. And, as always, a full rundown of this week's new game add-ons and discounts can be found at the PlayStation Blog. (more…)
WB Games has announced the Lego Star Wars series will make its triumphant return this Summer with the release of Lego Star Wars: The Force Awakens on June 28. The game will include a Lego-ized retelling of the latest entry in the Star Wars saga, while also offering levels built around the events that happened after the end of Return of the Jedi.
The Lego Star Wars series has sold 33 million copies since making its debut on the PS2 in 2005, but developer TT Games still has new ideas in store for The Force Awakens. These new features will include "intense Blaster Battles," aerial dogfights (in outer space and ground-based arenas), and the "Multi-Build" system, which will allow players to choose from multiple building options to advance in the game.
Players will get the chance to visit Jakku and Starkiller Base in Lego Star Wars: The Force Awakens, as well as take control of Resistance and First Order fighters like Rey, Finn, Poe Dameron, Han Solo, Chewbacca, C-3PO, BB-8, Kylo Ren, General Hux, and Captain Phasma. Finally, PS4 and PS3 players will receive bonus content for the game including a Droid Character Pack and Phantom Limb Level Pack. More details on those add-ons will be announced at a later date.
Lego Star Wars: The Force Awakens will, not surprisingly, be released for the 3DS, PC, PS3, PS4, Vita, Wii U, Xbox 360, and Xbox One.

The International Center for the History of Electronic Games (ICHEG) at The Strong Museum is once again seeking nominations for its World Video Game Hall of Fame. The Class of 2016 will be announced on May 5, but the museum will solicit suggestions from the general public until February 29. Anyone interested in nominating their favorite game should visit the Hall of Fame's website, and they should also keep the selection criteria in mind:
Icon Status: The game is widely recognized and remembered.
Longevity: The game is more than a passing fad and has enjoyed popularity over time.
Geographical Reach: The game meets the above criteria across international boundaries.
Influence: The game has exerted significant influence on the design and development of other games, on other forms of entertainment, or on popular culture and society in general. A game may be inducted on the basis of this criterion without necessarily having met all of the first three.
Six games were selected for induction in 2015 (Doom, Pac-Man, Pong, Super Mario Bros., Tetris, and World of Warcraft), and a similar number of titles will likely make the cut in May. That means nine games from last year's shortlist failed to be inducted (Angry Birds, FIFA International Soccer, The Legend of Zelda, Minecraft, The Oregon Trail, Pokemon Red/Blue, The Sims, Sonic the Hedgehog, and Space Invaders), but they'll likely be at the top of the suggestion pool again this year.
This year's finalists will be chosen by an internal advisory committee from the ICHEG, and will be revealed to the public on March 29. The new class of inductees to the World Video Game Hall of Fame will be selected by an international selection committee made up of journalists, scholars, and other individuals familiar with the history of video games and their role in society.

We're big fans of We Are Doomed here at Warp Zoned, so it's exciting to learn that the twin-stick shooter will be available to download for the Vita beginning on February 9. Vertex Pop's Mobeen Fikree announced the good news on the PlayStation Blog yesterday, while also including a number of tips for the oftentimes frantic shooter.
He also revealed that We Are Doomed is Cross-Buy compatible, so it'll be a free download on the Vita if you already own the PS4 version.

Jonathan Blow's The Witness aims to bring back the exploration genre on the PlayStation Store this week. The PS4 game is now available to download and its Myst-like qualities are readily apparent. Once you add in the whole "you're alone on a deserted island and there are puzzles everywhere" thing, it almost starts looking like a stealth sequel.
Also available this week is Lego Avengers (PS3, PS4, Vita), the 18th Lego adaptation from TT Games. This time, the British developer has mined the Marvel Cinematic Universe to create a game that links together Captain America: The First Avenger, The Avengers, Iron Man 3, Thor: The Dark World, Captain America: The Winter Soldier, and Avengers: Age of Ultron.
Finally this week, a trio of other titles will be added to the PlayStation Store including This War of Mine: The Little Ones (PS4), a war game that focuses on the civilian experience; Saturday Morning RPG (PS4 + Vita Cross-Buy), a dual homage to JRPGs and Saturday morning cartoons of the 80s; and Gemini: Heroes Reborn (PS4), a first-person adventure in a superpowered world.
More details on all of these games can be found after the break, and a full rundown of this week's new game add-ons and discounts can be found at the PlayStation Blog. (more…)