All Articles:
Angry Birds Star Wars II
From the secret, frozen, underground laboratory of Rovio, located somewhere in Finland, comes their latest Angry Birds incarnation, a sequel to the super-popular Angry Birds Star Wars of last year. This new game, Angry Birds Star Wars II, will be released on September 19th and will be available for download from all mobile app stores. The game also features a couple new twists in the gameplay.
In addition to new stories, levels, characters, special powers, and "new sides to fight for," Rovio has proudly announced an interesting gimmick called "Telepods." Made by Hasbro and available come September wherever toys are sold, Telepods will allow you to teleport your favorite characters directly into the game using, presumably, magic. You can also customize your slingshot lineup as well as choose which characters to include in that launch. There will be 30 collectable Telepods, so start saving up your nickels now, kids.
So many Telepods to play with, of course, means that there are over 30 "never-before-seen" Angry Birds Star Wars characters to play with, AND…OMG, GET THIS: "Another first for the series is that you can choose your side! Players can choose to "Join the Pork Side."
Since this game sequel will feature the Star Wars prequels, the first two levels in the game appear to be called "Naboo Invasion" and "Escape to Tatooine." So pull out The Phantom Menace, in the meantime, to prepare yourself. But don't forget to plug your ears when Jar Jar comes onscreen. (Note: Rovio has not said either way whether Mr. Binks will appear in the game, but we can only pray to our respective gods that the Empire shot him in the face with a blaster and dismembered him into pieces as small as ice cubes with a Lightsaber. Oops, I hope there are no children reading this. He's fine, younglings! Uncle Jar Jar is just fine!)
Check out the trailer to find out how these Telepods work (I'm being told it's not "magic"), some screenshots of the game, as well as an interior shot of what looks to be the secret Rovio fortress featuring several English-speaking scientists. I'm starting to think they're not really Finnish.
And in keeping with a really successful and marketable franchise, there will be ABSWII merchandise coming out the wazoo (which, I gather, must be some rural Finnish village), including but not limited to toys, plushies, books, clothes, pharmaceuticals, and more! Okay, one of those is not real. But I won't tell you which. All this plus the Telepods will make their debut in September alongside the main event, Angry Birds Star Wars II, the game.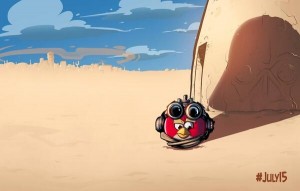 Rovio will more than likely reveal an Angry Birds Star Wars expansion and/or sequel related to the Prequel Trilogy on Monday, July 15.
The jolly Finns uploaded an Angry Birds Star Wars image that parodies the first teaser poster released for Star Wars Episode I: The Phantom Menace along with the text "Big new game announcement coming on Monday!"
I know Yoda teaches Luke that seeing the future with The Force is not an exact science ("Always in motion, the future is."), but "Angry Birds Star Wars: The Prequels" seems like a sure thing.