All Articles:
Angry Birds Transformers

Most crossovers exist somewhere on a spectrum that reads "Logical, But Boring" on one side and "This Makes ABSOLUTELY No Sense" on the other. When Rovio mashed together their Angry Birds with the furious fowl from Rio, the pieces fit together perfectly. On the surface, Angry Birds Transformers definitely seems to slide towards the latter option. How do you mix birds, pigs, and Robots In Disguise? I'm still not sure it makes any sense, but Rovio was somehow able to take these disparate elements and create a pretty good game.
I know, I'm as surprised as you are. But I probably shouldn't be. (more…)
Rovio has announced that Angry Birds Transformers will be available for mobile devices on October 15. To celebrate this momentous news, the developer enlisted Vince Di Cola, the composer on Transformers: The Movie, and asked him to create an 80s-style song to go with a trailer patterned after a VHS rip of the old cartoon.
As you might have guessed, it is a thing of beauty.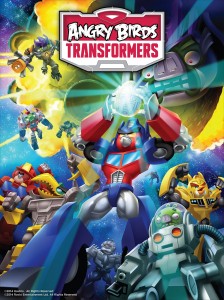 I am probably more excited for this than I should be, but Rovio and Hasbro have just announced they will collaborate on Angry Birds Transformers, a crossover game which will be released for mobile devices this Fall. The two companies will also team up to produce a variety of consumer merchandise (toys, t-shirts, and the like) and a line of Telepods based on Angry Birds Transformers.
"We're really excited to combine the iconic Transformers universe with the quirky world of Angry Birds," said Blanca Juti, Chief Marketing Officer of Rovio. "This mash-up is going to appeal to both those who grew up with the brand in the 80s, as well as fans of the brand today. People are going to love it!"
Angry Birds Transformers will most likely be based on the "Generation 1" continuity, as the teaser image provided by Rovio is a parody of the 20th Anniversary poster for Transformers: The Movie. But if you'll allow me to nerd it up for a minute, the Deceptihog in the mech suit in the bottom right corner should be an Autobird as that suit belongs to Daniel, a human supporter of the Autobots, in the film.
Yeah, more excited than I should be.