Recent Articles:
Until Dawn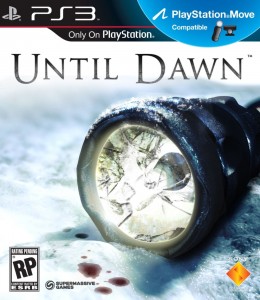 Like a masked killer stalking nubile teens in a wooded area, Until Dawn creeps around the corners of Sony's future plans for the PS3. Sony hasn't made an official announcement concerning the game in over a year, but the development team at Supermassive Games has assured Polygon they are still hard at work on the horror title:
"Until Dawn is very much still in development, going really well, and without any deliberations of possible cancelation that I'm aware of," Supermassive's Pete Samuels said. "We're very pleased with the way it's going. I'm sure that there will be more news soon, but I couldn't say exactly when."
Back in April, Sony released Until Dawn's official box art. The image claimed that the title would be "Move Compatible" instead of "Move Required" as Sony originally announced. It's unknown if that change is behind the release date delay (Until Dawn is still officially listed as a 2013 title on PlayStation.com) or if Supermassive is preparing to bring Until Dawn to the PS4.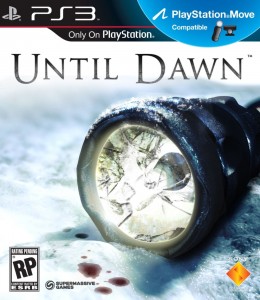 Sam Raimi's Evil Dead reboot isn't the only "cabin in the woods" a group of unlucky teens will be exploring this year as the PS3-exclusive Until Dawn is still on track for a 2013 release. After the game was announced last year, developer Supermassive revealed that the game was designed for use with the PlayStation Move controller and that the motion control peripheral was required for Until Dawn. PS3 owners requested DualShock supprt, but a PlayStation Blog post from October reconfirmed that the Move was the only planned input option for the game.
Fast forward to today and the reveal of the game's official boxart on Amazon. The banner along the top states that the game is "PlayStation Move Compatible" instead of "PlayStation Move Required," implying that DualShock support will ultimately be included in the game.
So we should all celebrate, right? Not so fast. Until Dawn's profile page on PlayStation.com shows a "PlayStation Move Required" banner along the top, but it also features a tiny picture of the new boxart that includes the "PlayStation Move Compatible" wording. We've contacted Sony and will update this story with the official word once we hear it.
At this point, those of us who want to play Until Dawn with a DualShock controller are still in limbo. Much like the limbo that trapped Bruce Campbell within the woods in Evil Dead II. And that turned out OK, he got a chainsaw hand out of the deal…
Of course, he had to cut off his possessed hand at the wrist first.
For all its rustic charm, a run-down "cabin in the woods" is definitely one of the most exciting places in the entire horror genre. From Joss Whedon and Drew Goddard's recent film of the same name to the Sam Raimi-produced Evil Dead reboot, everyone is getting their own place among the trees.
Supermassive Games is attemtping to bring the "cabin in the woods" genre to gamers with their PlayStation Move-exclsuive title, Until Dawn. And we're in for a treat as the developer has unveiled a special Halloween teaser trailer for the game:
Until Dawn puts you in control of eight teenagers, stranded in a remote location, under threat, and trying with all their might to survive 'til sunrise. When your friends are in danger, will you do everything you can to save them, or will you do nothing and watch them die?
Until Dawn is scheduled for a 2013 release.