When the Internet decides to collectively believe something that's just not true, we have to cry out… Just Stop! This is what's making a Warp Zoned editor rip his computer from the wall in frustration today…
Over the last few weeks, you've probably seen more than a few articles bemoaning the financial health of the retail games sector. Analysts and journalists have been carrying on about how this is the end of the line. That even with a generational jump looming, the gaming community has abandoned disc-based games for their iGadgets and their free-to-play Facebook counterparts.
No! Just Stop! YOU. ARE. WRONG.
Supposedly, the biggest predictor of the impending video game crash is last month's NPD report. The analyst firm's monthly list of bestsellers revealed that sales of disc-based games dropped 25% between October 2011 and October 2012, a trend that has been ongoing for the last few years. The only break in the chain happened in April 2011, when Mortal Kombat and Portal 2 pushed the month's sales past April 2010's numbers.
The end of the era of good feeling for disc-based console games can be traced to 2008, as it was truly a different time. The popularity of the Wii was at its highest point and Nintendo released a triple threat of games: Wii Fit, Mario Kart Wii, and Super Smash Bros. Brawl. All three games sold well, but they were trumped by another Nintendo release, 2007's Wii Play.
Wii Play was classified as a game by The NPD Group, even though the package's main selling point was the included Wii Remote. This "game" topped all others in 2008, forever skewing the data for subsequent years.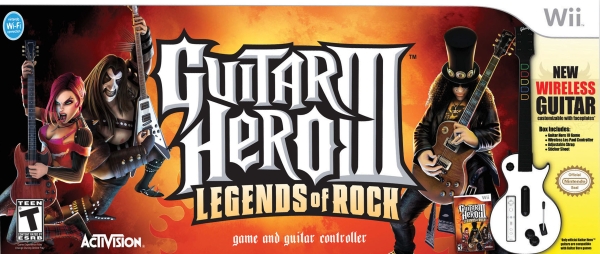 During 2008, another major trend from this generation was coming to a close: music games. Activision released Guitar Hero: World Tour in the Fall, and 2007's Guitar Hero III: Legends of Rock was still selling well at the time. But it was Harmonix, another developer just looking for a gig, that had a real effect on the industry's bottom line. Sales of Rock Band's $170 band bundle tallied more revenue than any other game in 2008, further inflating the year's overall total.
One final game pushed 2008 to heights the industry hasn't seen since: Grand Theft Auto IV. The open world tale of crime and corruption turned out to be a (so far) once-in-a-generation game. And that's because Rockstar chose to do something very interesting with its sequels.
Grand Theft Auto IV received two followups, The Lost and Damned and The Ballad of Gay Tony. Both would eventually be released as part of the disc-based Episodes From Liberty City, but they were initially available only as downloadable expansions. And Rockstar was not alone in embracing downloadable content. This part of the console experience soared after 2009, including sales of over 100 million songs on the Rock Band Store by May 2011.
Other publishers have followed suit, including 2K Games (Borderlands received four full-sized expansions and Borderlands 2 is set to receive the same), Bethesda (Fallout 3, New Vegas, and Skyrim), EA (Battlefield 3 will have five expansions by Spring 2013), THQ (Saints Row 3), and Activision (one million people signed up for their Call of Duty Elite premium service in 2012).
Downloadable expansions aren't the only things that have flourished on consoles… digital games have as well. In 2012, it felt like every week resulted in a new sales record being set on Xbox Live. In April, RedLynx sold over 100,000 copies of Trials Evolution in a single day. Three weeks later, more than 400,000 copies of Minecraft: Xbox 360 Edition were downloaded on its first day of availability. The game has since gone on to sell over four million copies, an unheard of number for a downloadable console game. None of these major moneymakers are considered "game sales" by The NPD Group, but sales of controllers packed with Wii Play and plastic instruments that come with a game are.
The NPD Group has one other massive hole in their tracking methodology that belies the health of the console games industry. I am, of course, referring to the 800-pound gorilla in the room, the used game industry.
In 2008, GameStop sold two billion dollars worth of "used game products." In 2011, that number had increased to $2.62 billion. It's true that game developers don't get a cut of this money (as they would from new game sales), but the secondary market gives millions of new players the chance to purchase profitable (and untracked) downloadable content straight from the publishers. For as much as they complain about them, publishers see many benefits from the used game market besides DLC sales, including increased awareness of their future releases and subsidization of new game purchases.

But a funny thing happened in 2010. GameStop was no longer the only game in town when it came to selling pre-owned discs as major retailers like Target, Best Buy, Walmart, and Toys R Us joined them. That's not to mention the player-to-player market of eBay and Amazon, as well as the 422,000 GameFly subscribers (as of 2010) that can purchase any game from the company's rental offerings.
The point is, there are many more ways to bypass the retail market that The NPD Group tracks and still obtain a never-ending supply of disc-based games. Sales of disc-based console software reached a record high of $10.96 billion in 2008. Sadly, for publishers, that number has been dropping ever since. For 2012, it'll likely end up in a range of $8-$9 billion. But it's plain to see that the industry isn't getting smaller, gamers are just spending their money on different things.
First of all, they're not buying games like Wii Play because they already have a second Wii Remote. And they're not spending millions of dollars on band bundles and Balance Board packages that inexplicably count as games. In 2012, what they're doing instead is spending at least $600 million more on used games than in 2008, along with dropping over $80 million just on downloadable copies of Minecraft: Xbox 360 Edition and over $50 million on Call of Duty Elite premium subscriptions.
So let me attempt some math here. After removing the value of the accessories from games like Wii Play, Wii Fit, and Rock Band, 2008's software sales total should be close to $10 billion, meaning that 2012's total will only be about a billion off, instead of $2 billion. Then add in the uptick in used game sales at GameStop (now our difference is at $400 million). Finally, add in the $130 million in digital sales for Minecraft: Xbox 360 Edition and the CoD Elite subscriptions. That means that the console market of 2012 has generated only $270 million less in revenue than in 2008. And I'm sure we could find a few more successful digital releases to make up the difference.
Would you look at that – the console game industry is actually pretty healthy!