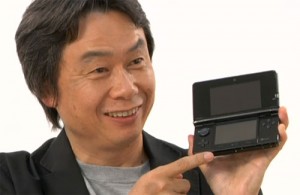 For all the Internet wailing that Nintendo just rehashes their favored franchises over and over again, Shigeru Miyamoto is obsessed with newness. In the last 18 months, the famed developer has told reporters that he's interested in creating new characters for Nintendo, bringing new ideas to Metroid and Star Fox using the Wii U GamePad, and experimenting with the Legend of Zelda series. He has also passed on creating another F-Zero sequel because he can't think of anything new to add to the franchise.
After all this, it shouldn't come as a surprise that Miyamoto doesn't just have plans to work on a new franchise for the Wii U… he's actually doing it right now!
Miyamoto: [I]t's pointless to talk about other features, no matter how fulfilling, without releasing games of our own, so we hope you'll look forward to the games to come. Next Spring, with the release of Mario Kart 8, we'll have a general selection available, so I've been thinking it would be a good time to bring out a new franchise.

Famitsu: A new franchise! An all-new title that you would be working on?

Miyamoto: I can't say too much in detail right now, but I've been pretty busy with this title these days.
Just a few days ago, Nintendo President Satoru Iwata confirmed that the company has a full slate of unannounced titles in development for the Wii U. So it might be a while before we hear more about Miyamoto's next (possible) masterpiece.
[Source: Famitsu (via Kotaku)]