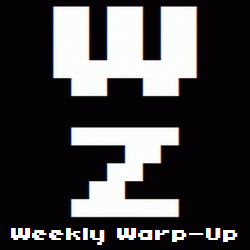 No, that's not a typo. Welcome to the Weekly Warp-Up, your weekly wrap-up of the biggest and the best articles posted at Warp Zoned this week…
I hope you had a good Christmas and New Year's because now it's full steam ahead into 2014! Woo! Yeah! Wait, nothing actually happened this week!
Well, one thing happened. We here at Warp Zoned handed out the 2013 Golden Pixel Awards, honoring our favorite games from last year. Besides our yearly top ten, we handed out The Participation Trophy, picked a piece of tech that is pushing the world one step closer to SkyNet, rocked out with our favorite game soundtrack, and highlighted more than a dozen other games.
The (very short) remainder of the Weekly Warp-Up can be found after the break.
The Week in New Games…
Amazing Paperboy Delivers…
It's A Secret To Everybody…
Capcom has filed a trademark for Deep Down, so we can stop calling it "Deep Down (Working Title)."
Capcom has plans to announce Ace Attorney 6, a new fighting game, and a classic reboot in 2014.
And Finally…
In addition to the Golden Pixel Awards, the Warp Zoned staff talked about What We Played in December and selected our Games of January this week.