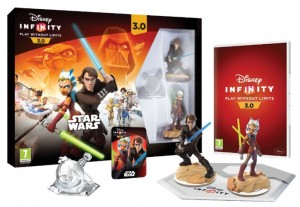 Disney Interactive has announced that Disney Infinity: Star Wars (AKA Disney Infinity 3.0 Edition) will be released on August 30 for the PC, PS3, PS4, Wii U, Xbox 360, Xbox One, and mobile devices. If you recall, that is very close to a leaked release date that was uncovered earlier this year. A number of other Disney Infinity figures and accessories will also be available by the end of next month:
Star Wars "Twilight of the Republic" Play Set (includes Anakin Skywalker and Ahsoka Tano figures)
Star Wars Figures (Yoda and Obi-Wan Kenobi) and Power Disc Pack
Star Wars Rebels figures (Kanan Jarrus, Ezra Bridger, Sabine Wren, and Zeb Orrelios)
Star Wars Saga Starter Pack
Inside Out Play Set (includes Joy and Anger figures)
Inside Out Figures (Sadness, Disgust and Fear)
Disney Figures (Mickey Mouse, Minnie Mouse, Mulan, Olaf, Sam Flynn, and Quorra)
Tomorrowland Power Disc Pack
The publisher also revealed that anyone who pre-orders Disney Infinity: Star Wars will receive free access to the Toy Box Takeover expansion (which is regularly priced at $19.99). More details on Toy Boy Takeover, and the Toy Box Speedway expansion, can be found after the break.
Toy Box Takeover
When Syndrome gets his hands on Merlin's magic wand, it's up to the player to stop him. Using their favorite characters in Disney Infinity, they must battle across multiple worlds, such as Pirates of the Caribbean, Marvel's Upper Manhattan, The Old West, or The Incredibles Volcano Lair to defeat the bad guys before they ruin the Toy Box forever. Players can complete missions with family and friends via two-player local co-op or four-player online.

Toy Box Speedway
Players can join their favorite Disney, Pixar, Marvel, and Star Wars characters and vehicles in an action-packed kart-racer. With nine franchise-themed tracks to choose from – Sugar Rush, Frozen, Tatooine (a classic Star Wars location), San Fransokyo, Agrabah, Monsters Inc., Halloween Town, Gravity Falls, or Marvel's Knowhere – they can choose from three different game modes including Time Trial mode, Race mode and Combat mode. Players put their driving skills to the test as they attack opponents with gadgets and weapons and earn trophies across three challenge cups.