All Articles:
Doodle Jump
A Kinect-powered, Xbox Live Arcade version of Doodle Jump was announced over two years ago. Today, it has finally been added to Microsoft's digital storefront and it's been priced at 400 Microsoft Points ($5).
Developed jointly by Lima Sky and Smoking Gun Interactive and published by D3 Publisher, Doodle Jump For Kinect players can now tackle "three original worlds, robust power-ups, and challenging boss battles" in their attempt to get the Doodler to the top of the screen:
Doodle Jump, the most addictive mobile platformer ever, comes to Xbox Live Arcade with amazing new Kinect-only features. Guide Doodle the Doodler on a journey up, up, up, bouncing from platform to platform, past monsters, black holes and other obstacles. Players step left and right to move, point to blast nose balls at baddies, flap their arms to fly and more with other unique gesture controls. Doodle Jump for Kinect introduces 3 all-new worlds, treacherous bosses, and unique power-ups. Get off your couch and get your friends and family together to see who can score the most points and collect the most stars.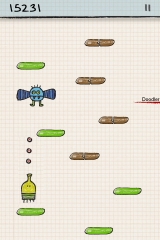 It seems like ages ago, but before a flock of Angry Birds took over the App Store, Lima Sky's Doodle Jump ruled the roost. Today, the mobile game is celebrating a big milestone and jumping to new destinations.
First things first, Lima Sky has proudly announced that ten million copies of Doodle Jump have been downloaded in the two years since its release. Just goes to show you that an addictive game can suck in a lot of buyers if the price is right.
But iPhone and Android owners will soon have to share Doodle Jump with their iPad and Xbox 360-owning friends. Set for release sometime in 2011, the iPad version of the game will include brand new content while the Xbox 360 version will be released through the Xbox Live Arcade (naturally) and include Kinect support.
But don't worry iPhone fans, the iPhone version of Doodle Jump will receive a free multiplayer update "very soon."